We're Sorry
There was an unexpected error with the form (your web browser was unable to retrieve some required data from our servers). This kind of error may occur if you have temporarily lost your internet connection. If you're able to verify that your internet connection is stable and the error persists, the Franklin University Help Desk is available to assist you at helpdesk@franklin.edu, 614.947.6682 (local), or 1.866.435.7006 (toll free).
Just a moment while we process your submission.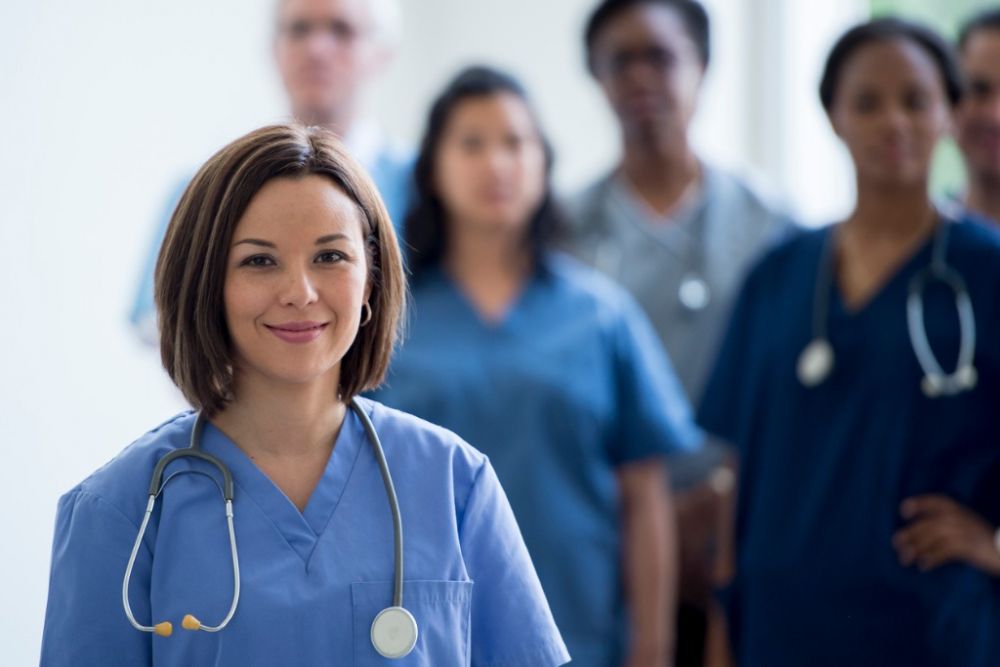 What is an MSN Degree: Everything You Need to Know
The demand for nurses is increasing considerably. The cause? An aging population and a shortage in nurses driven by retirement.
As such, the master's of science in nursing (MSN) degree has become a hot commodity as nurses seek to move into leadership roles and fill advanced positions that require the most current understanding of healthcare, patients and policy.
The Basic Facts About the MSN
The MSN is a master's level degree for professional nurses. Designed to qualify graduates for leadership or teaching positions, an MSN program might include 30-40 credit hours and take about 2 years to complete, depending on your experience and education background.
In a typical MSN program, you can expect to take courses around nurse team supervision, health systems, and healthcare ethics. You'll also learn how to manage quality improvement, health policy, and leadership. If you're thinking about reasons to go back to school and get your MSN, let's explore some of the reasons it's a good time to do that.
The Two Entry Paths to an MSN
There are two paths to earn a MSN. BSN-to-MSN programs are designed for students with a bachelor's of science in nursing. Don't have a BSN? Many schools offer an RN-to-MSN program for those who hold a registered nurse certification.
2018's Top MSN Specializations
One reason to get that MSN is the variety of powerful, influential job positions that will become available to you. Here are just a few of the top MSN degree specializations and careers:
Family Nurse Practitioner (FNP)
Nurse Practitioners (NPs) have a variety of options for specialization, and one of them is in the ever-important family practice setting. The demand for FNPs is predicted to increase by 25 percent by 2022. FNPs have many clinical responsibilities and the authority to provide high levels of care:
Diagnosing illness
Determining the proper course of treatment
Ordering and interpreting diagnostic tests like lab work, x-rays, or other imaging
Prescribing medication
According to Debbie Conner, Ph.D., MSN, and Family Nurse Practitioner Program Chair at Franklin University, "Becoming an FNP means you have opportunities to work in a wide variety of healthcare settings, like primary care medical offices, clinics, or even in a school."
Adult Gerontology Nurse Practitioner (AGNP)
An Adult Gerontology Nurse Practitioner (AGNP) is an NP with a clinical focus on treating people from adolescents through adult years and into advanced years. AGNP nurses require additional specialized education beyond their certification as RNs. Though AGNPs follow their own career paths, it's typical to work for years as an RN before going back to school to earn the NP credential. Becoming an AGNP is almost always a jump in pay, with average salaries of $94,000. It also brings the nurse much more independence as a practitioner, and many of them work in private practice outside of physician supervision.
Because an AGNP works across a broad patient population from young adults to geriatrics, opportunities are many and varied. Specializations and areas of emphasis might include diabetes, health policy, palliative care, and end-of-life care.
Critical Care Nurse
In this field, nurses are on the front lines of caring for the most critically ill patients. Their patients might be facing traumatic injuries, challenging surgical procedures, or life-threatening illness.They typically work in general intensive care units (ICUs), medical ICUs, surgical ICUs, trauma ICUs, coronary care units, cardiothoracic ICUs, burns unit, and emergency departments.
Patients in their care often require mechanical ventilation, detailed monitoring, and both confidence and caution in care. The certification for clinical care shows knowledge and expertise in intensive care; it's also a sign of a nurse's desire to expand their knowledge base and skill set to provide the best care for patients whose lives are at stake.
Critical care nurses are in a field of constant learning; they must always be familiar and comfortable with technological advances that may monitor, medicate, or assess their patients. It can be a stressful environment, but certain personality types are drawn to it and thrive on it.
Nurse Anesthetist
A nurse anesthetist may also be called a Certified Registered Nurse Anesthetist (or CRNA). The role may be an independent one, where the nurse anesthetist works alone, typically in cases involving only local anesthesia; it may also be a role that provides support to an anesthesiologist during surgery or surgery preparation. "The role involves not just anesthesia, but also a deep understanding of pain management," according to Dr. Conner.
Average salary is $154,300 and the demand is expected to increase by 22 percent by 2022.
According to the American Association of Nurse Anesthetists (AANA), students will complete an average of 2,500 clinical hours and administer 850 anesthetics before they earn their certification. It's a specialization with rigorous academic requirements, with about seven years of higher education and experience to become certified.
Neonatal Nurse Practitioner (NNP)
Healthy newborn babies are put in the care of neonatal nurses. However, it's the neonatal nurse practitioner who cares for newborns who need urgent or specialized care.
NNPs often must manage the care for premature and newborn infants afflicted with life-threatening illnesses. They typically work in neonatal ICUs, emergency rooms, delivery rooms, or specialty clinics. Their work is intense and may include the need to make urgent but sound decisions throughout a typical day.
They're responsible for assessment, diagnosis, and initiating medical procedures. Along with this high level of responsibility also comes a commensurate income. According to Salary.com, the median annual salary for NNPs is around $119,000, as of May 30, 2018, with a range usually between $109,000 and $129,000.
Psychiatric Mental Health Nurse Practitioner (PMHNP)
As in any of the NP roles above, the designation of PMHNP confers a great deal of independence and demands exceptional skills in decision-making. The past decade has seen a 10% decline in the number of practicing psychiatrists, according to the National Council for Behavioral Health. This decrease has created a widening gap in the number of patients needing mental health care and the practitioners available to provide it.
As a result, the field of PMHNPs (also known as psychiatric nurse practitioners) is expanding. They can expect to find the greatest opportunities in mental healthcare facilities, like hospitals, clinics, and private practice. Though salaries vary, the average is around $115,000. Demand to hire PMHNPs is expected to increase by 25 percent by the year 2022.
Clinical Nurse Specialist
These experts are RNs who also typically hold at least a master's degree plus certification that recognizes their advanced study, knowledge, and clinical skills in one specific area. The specialization might be related to a particular patient population, like pediatrics, or an area of nursing, such as diabetes or oncology. According to the National Association of clinical nurse specialists, CNSs:
Provide diagnosis, treatment, and ongoing management of patients
Give expertise and support to nurses caring for patients at the bedside
Help drive practice changes throughout the organization
Ensure the use of best practices and evidence-based care for best outcomes
Certified Nurse Midwife
Nurse midwives are NPs who provide prenatal, gynecological, and birth care. They also provide counseling and education for maternity wellness. They earn a master's degree and typically have the designation of Certified Midwife (CM) or a Certified Nurse-Midwife (CNM).
"Certification and legal standards may vary from state to state," according to Dr. Conner, "Depending on your state's requirements, CNMs may work solo, or they may work with an obstetrician." In either case, the pay and opportunities are growing, according to the Bureau of Labor Statistics, which suggests a median salary of $100,590 and job growth of 31% by the year 2026.
4 Tips to Successfully Complete Your MSN
A master's degree is a challenging undertaking. Here are several things you'll need to know before going for your MSN:
Start with a commitment to yourself. Earning your master's will require a lot of time and difficult coursework. According to Dr. Conner, "It's a lot to take on. Think about what you may have planned for the coming year or two. Maybe a wedding, having a child, or big events. If you can, plan your school work around those events so you have fewer conflicts. Tell your family, your employer, and your clubs that you may have other commitments that will take some time away from them. You'll have to be prepared to say 'no' to some requests because you can't do it all."
Planning is essential. Once you add the rigors of a master's degree program to your life, you'll see how important it is to plan ahead. For example, the final year of many programs require you to perform on-site clinical work for 1 or 2 days a week; that means you may have to secure some time away from your full-time job. Over time, you'll get better at planning ahead, scheduling your time, and sticking to it. Make sure your family knows about your occasional need to prioritize study and research time. Your ability to plan ahead in your non-school time will be critical to your educational success.
Seek out scholarships. If you belong to a professional organization (American Nurses Association, Sigma Theta Tau honors society, American Association for Critical Care Nurses), they can be an excellent resource to discover financial support opportunities. Talk with your short list of schools to see if they can provide you with guidance on sources of financial support.
It doesn't hurt to ask! Some employers offer bonuses or "tuition reimbursement." Talk with your Human Resources department to discuss your company's policy on returning to school for a master's degree. Many companies are proud of their track record in educating and retaining employees. The NP role is no exception. In addition to asking your employer about tuition reimbursement, also ask your employer about any potential educational partnerships they may have with a school. Some universities offer employer partnership tuition discounts that can save you money.
The value of the MSN lies not just in the career paths it opens and the job security it offers, but also in the inherent change it will bring to your ability to think critically and lead effectively. If you're unsure the time is right for you, remember that the best MSN educational programs out there are dedicated to ensuring that earning the degree is a manageable process.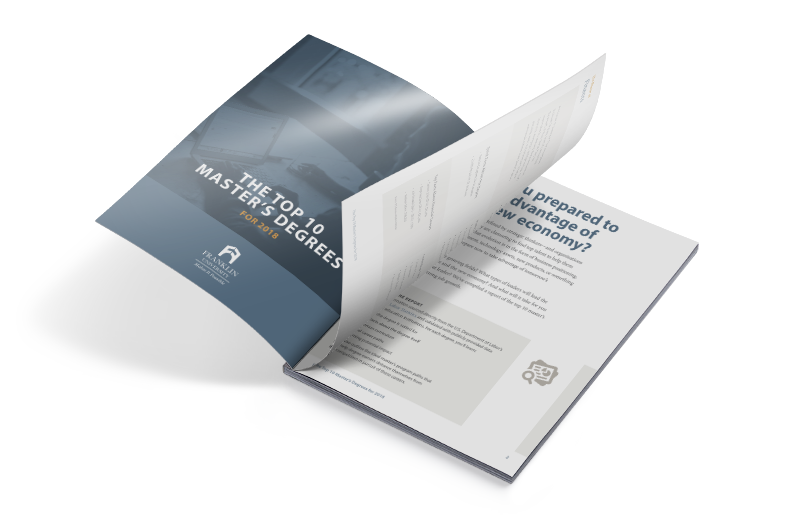 Download Now
Discover 10 of the most in-demand master's degrees based on salary and job growth.