We're Sorry
There was an unexpected error with the form (your web browser was unable to retrieve some required data from our servers). This kind of error may occur if you have temporarily lost your internet connection. If you're able to verify that your internet connection is stable and the error persists, the Franklin University Help Desk is available to assist you at helpdesk@franklin.edu, 614.947.6682 (local), or 1.866.435.7006 (toll free).
Just a moment while we process your submission.
What Is a DNP Degree? Need-To-Know Information For Nurses Looking to Advance
 Healthcare is growing and changing by the day. As the industry evolves, nurses play a critical role in advancing the quality and safety of patient care. Healthcare needs more nurses to be leaders who can spur positive transformation in their organizations and communities.
Demand for advanced nursing roles like Nurse Practitioners is rapidly accelerating, expected to grow by 45% by 2029. Demand is also high for Medical and Health Services Managers, with growth expected at 32% by 2029. Both of these roles present clinical and leadership opportunities for qualified nurses looking to advance their careers.
One way to advance to these leadership roles is to earn a DNP, or Doctor of Nursing Practice, degree. We're here to help provide an overview of this degree and the benefits of earning a DNP.
 
What Kind of Degree Is A DNP?
A DNP is a doctorate-level degree. The DNP is designed to help registered nurses who hold a Master of Science (MSN) in Nursing or a Bachelor of Science in Nursing (BSN) attain the highest level of education and advance their careers.
DNP curriculum focuses on evidence-based practice and quality improvement. By combining these two focuses, nurses who pursue their DNP are prepared to intentionally improve health and wellness outcomes for individuals, communities and entire populations.
The core curriculum in a DNP program includes:
DNP Foundations: An introduction to the role of a DNP as a change agent in healthcare. Skills developed in this course include identification of a gap in practice, conducting a needs assessment and describing the scope and significance of the problem. 
Evidence-Based Practice and Quality Improvement: This course of study focuses on advanced nursing practice as a form of inquiry, integration, and application of evidence into practice. You will learn to read and synthesize research—as well as use technology and information systems—to evaluate and implement evidence-based practice methods.
Clinical Prevention and Healthcare Outcomes: This curriculum teaches you to assess, design and implement evidence-based quality healthcare practices. The goal of this course is to give you the tools to define desired outcomes and measure success using data.
Leadership, Policy & Interprofessional Collaboration: You will learn principles of advanced leadership in the context of complex healthcare systems. Skills gained include change management, developing high-functioning teams and improving quality and safety of care.
To qualify for a DNP program, a nurse must have completed a Bachelor of Science in Nursing (BSN) or a Master of Science in Nursing (MSN). Unlike many other advanced degrees, those holding a BSN may advance directly to a DNP without completing a master's degree. If you have an RN, but neither of these degrees, you can pursue an RN to MSN program, then complete a DNP.
What Paths Can Nurses Take With A DNP Degree?
Depending on the university you choose, the DNP program may offer different concentrations or tracks of study. 
At Franklin University, for example, you can choose between two different Doctor of Nursing Practice tracks—the Family Nurse Practitioner Concentration or the Leadership Concentration.
A DNP with a Family Nurse Practitioner Concentration focuses on advancing the clinical care of patients in a primary care setting. This concentration may be right for you if:
You're passionate about using research to put evidence-based care into practice in a family medicine setting.
You want to develop direct relationships with patients and maintain consistency of care.
You want to run or be a partner in a primary care practice.
A DNP with a Leadership Concentration prepares for advanced roles in clinical or nonclinical healthcare management. In this concentration, you further specialize in one of three areas: healthcare administration, health informatics or public administration. This concentration may be right for you if:
You aspire to work at executive leadership levels in a healthcare organization.
You're interested in the business-side of healthcare and how it impacts patient outcomes.
You want to work in an indirect or non-clinical setting, like a government agency or nonprofit, and influence healthcare policies.
Whichever path you choose, you will be prepared with the knowledge and skills to be a leader and changemaker in improving quality and safety of patient care.
5 Reasons a Nurse Should Earn a DNP
Getting a DNP is a rigorous pursuit, but it can also be very rewarding. If you're questioning whether this path is right for you, consider the following benefits of getting your DNP degree.
Getting a DNP may become the standard for advanced practice nurses in the future. In 2018, The National Organization of Nurse Practitioner Faculties (NONPF) made a statement committing to move all entry-level nurse practitioner (NP) education to the DNP degree by 2025. Getting a DNP now can help future-proof your career and put you ahead of the curve of changing standards of education.
You can help close the gap between research and clinical practice. As stated by the Agency for Healthcare Research and Quality, it takes an average of 17 years for new medical evidence to be incorporated into clinical practice. A DNP degree trains you to read and synthesize research so you can implement evidence-based care in your interventions and treatment plans sooner. 
You'll learn to think, plan and administer care at the systems level. A DNP program will train you to look at not only the health of an individual, but also their families, communities and society at large. Whether you want to advance to the executive level, start your own practice, or influence public policy, a DNP gives you the tools to elevate your thinking and make changes at the systems level.
Adapt to the changing demands of nurses and healthcare. Healthcare delivery is ever-evolving. From new technologies to new regulations, the healthcare industry needs innovative leaders who can improve patient outcomes while navigating the realities of a changing healthcare system. A DNP helps you diversify your knowledge and gain tools to help the field evolve for the betterment of safe, efficient and high-value care.
Work at new levels or areas of healthcare for which you weren't qualified before. A DNP can open the doors to work at the most advanced levels of the healthcare industry. A DNP shows employers you are dedicated to the highest standards of care, while also showing you have the research knowledge and business acumen to advance their organization.
Find the Right DNP Program to Meet Your Career Goals
A DNP is a great option for nursing professionals who want to improve the quality and safety of patient care—from individuals to entire populations. If you're interested in pursuing this degree, you need to find a program that meets your unique needs.
Franklin University's Doctor of Nursing Practice degrees help working nursing professionals advance their education on their schedule. You get the flexibility of completely online courses and the hands-on experience of built-in practicum. You can finish your degree in as few as 3 years, with opportunities for transfer credit and practicum credit. 
See how our two DNP degree options can take your career to new heights.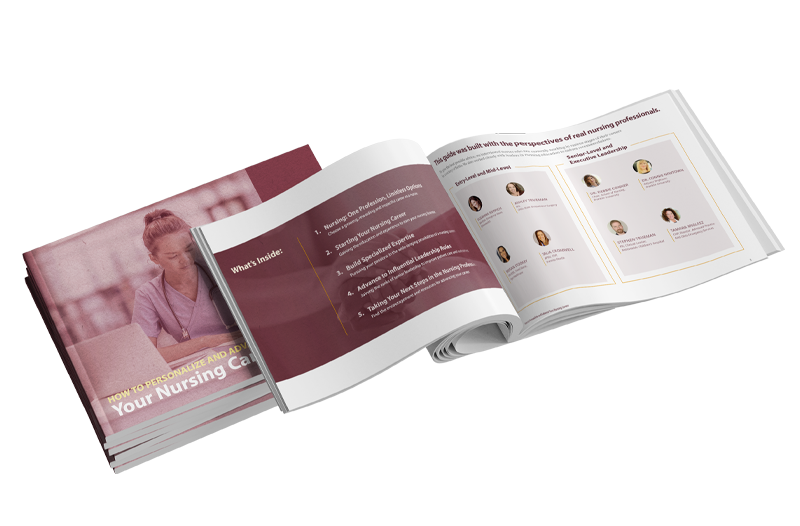 Download Now
How to Personalize and Advance Your Nursing Career
Find out how to take your nursing career further with advice from real nursing professionals.