We're Sorry
There was an unexpected error with the form (your web browser was unable to retrieve some required data from our servers). This kind of error may occur if you have temporarily lost your internet connection. If you're able to verify that your internet connection is stable and the error persists, the Franklin University Help Desk is available to assist you at helpdesk@franklin.edu, 614.947.6682 (local), or 1.866.435.7006 (toll free).
Just a moment while we process your submission.
How Long Is A DNP Program?
Many hospitals and healthcare organizations have recognized that experienced nurses with advanced education and skills are in great demand for advanced practice nursing roles. 
According to the Bureau of Labor Statistics, overall employment of nurse anesthetists, nurse midwives, and nurse practitioners is projected to grow 45% from 2019 to 2029, much faster than the average for all occupations.
These roles require advanced education to succeed. The Doctor of Nursing Practice (DNP) is a professional nursing degree designed for experienced RNs seeking advanced-level leadership positions. Completions of DNP degrees are accelerating rapidly, increasing by approximately 371% from 2012 to 2019. 
One reason for this acceleration is the American Association of Colleges of Nursing (AACN) has committed to migrating the requirement to become an advanced practice nurse to the DNP level by 2025. 
With all of these changes, a Doctor of Nursing Practice can be a great option for advancing your career. However, many nursing professionals may wonder if they have the time and energy to earn a doctorate degree.
Let's look at the process and timeline for earning a DNP degree.
 
The Timeline for Earning Your DNP Degree: How Long It Takes For Nurses At Different Stages In Their Career
The timeline for earning a DNP degree varies based on the particular path students take, as well as the specialization they pursue. 
Let's look at the different ways to earn a DNP degree based on your education and experience.
Bachelor of Science in Nursing (BSN) to DNP Timeline
Unlike many other doctorate degree programs, some universities offer an accelerated BSN to DNP program where you don't need to earn your Master of Science in Nursing (MSN) before enrolling in a DNP program.
Franklin University offers busy working nurses an affordable, BSN to DNP program without the MSN requirement. With one of the most accelerated BSN to DNP programs available, students can quickly qualify for the DNP upon successfully completing two, MSN-focused bridge courses. 
Once enrolled, students can complete the BSN to DNP program in only 3 or 4 years, thanks to practicum hours that are included within specific courses. 
Master of Science in Nursing (MSN) to DNP Timeline
If you already have an MSN, a DNP program can be completed in as few as 2 years. Depending on how you pace your coursework, practicum and clinical hours, it could take 3 years or more. 
RN Without a BSN to DNP Timeline
If you don't have a BSN degree, you can't take a direct path from RN to DNP. However, there are RN to MSN degree programs that can put you on the path to earning your DNP.
If you're a registered nurse with a nursing diploma or an Associate Degree in Nursing (ADN), Franklin's RN to MSN is a streamlined admission path that quickly gets you on track to earning your M.S. in Nursing. 
Let's look at how it would complete your DNP taking this path:
1.5  to 2.5 years to complete an RN to MSN program
2-3 years to complete your DNP degree after earning your MSN
Factors That Can Speed Up or Slow Down Earning Your DNP Degree
How long it takes to earn a DNP degree relies heavily on personal preference and how you learn best. There are some common factors that can make it faster or slower.
Factors that can accelerate earning your DNP degree:
Transfer credit is the number one way to accelerate earning your DNP degree. At Franklin University, you may be able to achieve 500 of 1,100 required clinical hours from transfer credit or residency. Eligible students may be able to transfer up to 12 credit hours in coursework in addition to these 500 clinical hours. 
Taking multiple courses at the same time. If your schedule allows, taking more than one course can help you finish your degree faster.
Choosing a program that offers built-in practicum courses. Built-in practicum courses can help you apply new knowledge while you're learning it. This structure will also make it easier to gain required clinical hours.
Factors that can slow down earning your DNP degree:
The number of days you need to work your current job. If you have a restrictive work schedule, you may need to take classes and complete clinical hours at a slower pace. 
Lack of time to commit to completing coursework. Outside of your job, you also have to consider personal and family commitments. You need to have at least one hour per day that you can dedicate to your studies.
How strong of a reader and writer you are. If you aren't passionate about challenging your current perceptions, consuming research and writing, it may take you longer to complete a DNP program. 
Make Earning Your DNP Degree More Attainable
A DNP is the terminal degree for nursing professionals. Earning a DNP is a rigorous experience that takes time, self-discipline and dedication. However, earning your degree can be a valuable step in advancing your nursing career and becoming a healthcare leader.
Choosing the right DNP program can make it quicker, easier and more engaging to complete your degree. Franklin University's DNP program includes: 
Online courses that help you balance earning your degree with other work-life commitments.
Built-in practicum courses that allow you to apply knowledge as you learn and gain valuable advanced clinical experience.
A scholarly project that helps you apply your new skills to a healthcare problem about which you're passionate.
Instructors, who are seasoned, in-field practitioners, bring an additional level of real-life expertise to your coursework.
Franklin University offers two DNP tracks. The DNP - Family Nurse Practitioner Track prepares you to advance patient care in a primary care setting through evidence-based practice that promotes innovation, safety and quality. The DNP - Leadership Track can help you rise to the highest levels of leadership in healthcare in a variety of settings, including administration, informatics and policy. 
Explore how Franklin's DNP programs will help you reach your career goals.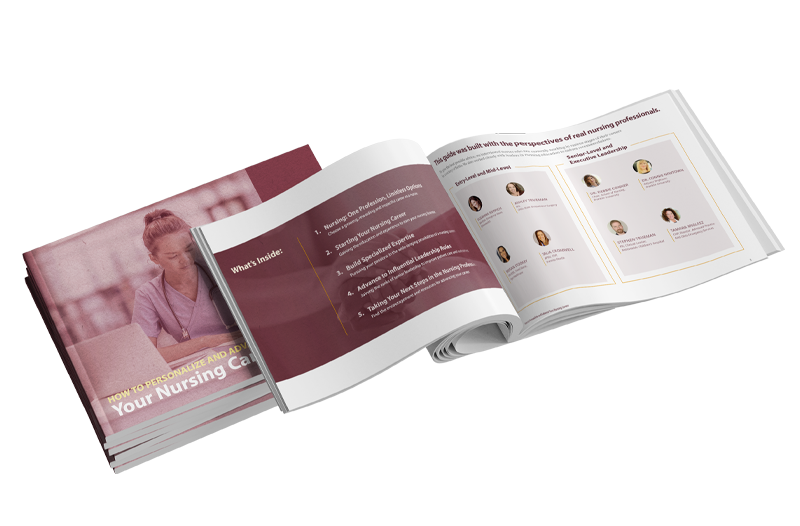 Download Now
How to Personalize and Advance Your Nursing Career
Find out how to take your nursing career further with advice from real nursing professionals.