Scholarships
Franklin University Scholarships
In an effort to lower costs and increase accessibility, Franklin is pleased to offer scholarships for undergraduate and graduate students. Scholarships for women, nursing scholarships, graduate school scholarships and niche scholarships are available to students who have applied to the University. More than half of all Franklin students receive some type of financial assistance, including grants, loans, scholarships, or our deferred payment option.
The Franklin University Undergraduate Scholars Program (USA)
A competitive scholarship program for Franklin undergraduate students. Scholarship recipients are selected based on prior academic achievement and quality of essay. Scholarships range from $200 to $2,500 each and are non-renewable. The application deadlines are: Summer - March 1; Fall - July 1; Winter - November 1.
Please view the application for additional information about GPA, essay, and transcript requirements.
1902 Leadership Circle Scholarship
Alumni Military Scholarship
Jo Ann Davidson Public Administration Leadership Scholar Award
Greta J. Russell Medical Mutual of Ohio Scholarship
Nationwide Insurance Corporate Connections Scholarship
The Choose Ohio First Scholarship Program (COF)
The Ohio Department of Higher Education's Choose Ohio First Scholarship is available for students seeking a bachelor's degree in the STEMM disciplines (Science, Technology, Engineering, Mathematics, and Medicine). Franklin University's Computer Science (CS), Management Information Sciences (MIS), Information Technology (ITEC), Cyber Security/Information Security (ISEC), and Web Development (WEBD) programs have been approved for this competitive scholarship which will be funded jointly by the Ohio Department of Higher Education and Franklin University.
Undergraduate CBusStudentHack Scholarship
To be considered for the scholarship, you must:
Intend to complete an undergraduate degree program in web development, health information management, cyber security, information technology, computer science or information systems
Have successfully completed a Franklin University and AT&T-sponsored CBusStudentHack experience with a recommendation by a CBusStudentHack advisor
Have graduated from high school within the past 4 years
Have no previously completed undergraduate coursework at Franklin
Not currently be enrolled in an undergraduate program at Franklin
Have no more than 12 college credits earned (excluding AP and/or CCP credit)
Have a cumulative high school GPA of 2.75 or higher
The award amount will be $3,750, to be applied for up to 8 terms (for bachelor's degree applicants) and 4 terms (associate degree applicants) from initial enrollment, if a 2.75 GPA is maintained and student is completing at least 12 credit hours each term.
Please click here for the 2017-18 CBusStudentHack Scholarship Application.
Undergraduate Interactive Media Design Scholarship
To be considered for the scholarship, you must:
Intend to complete the bachelor's degree program in interactive media design
Have no previously completed undergraduate coursework at Franklin
Not currently be enrolled in an undergraduate program at Franklin
Have a cumulative GPA of 3.0 or higher for all previously completed college coursework
The award amount will be $1,000, to be applied for up to 6 terms consecutively from initial enrollment if a 3.0 GPA is maintained and student is completig at least 6 credit hours each term.
Please click here for the 2016-17 Academic Programs Scholarship Application.
Application Deadline
Fall 2016
Winter 2016
Summer 2017

Full-time
August 8th

Part-time
September 12th

Full-time
November 28th

Part-time
January 16th

Full-time
March 27th (face-to-face only)

Part-time
April 17th
The COHPA Partnership Scholarship
Available for all programs within the College of Health & Public Administration
Must be employed by a VHA partner institution
Scholarship will be applied as a percentage of tuition each term
The application form must be complete prior to each term of enrollment
External scholarships are offered to students by various community and professional organizations. These and more opportunities are publicized in our student Blog - Connections.
Risk Management and Insurance Scholarships
Application Deadline: November 1, 2017
IBISWorld
Application Deadline: November 30, 2017
Scholarship Opportunities for Women in STEM
Application Deadline: March 31, 2018

EXTERNAL SCHOLARSHIP SEARCHES:
Below you will find several free scholarship searches engines and some external scholarships that are available:
International Education Financial Aid
This site serves as a resource for International students, providing information about scholarships, loans, and other programs that may be available.
Military.Com Scholarship Finder
Find millions of dollars in scholarships and grants exclusively for the military community
Fastweb.com
Free scholarship search database
GoodCall: Better information, smarter decisions
This is a site that uses data to help users make better choices, with a user-friendly interface organized to simplify complex information so students can find scholarships they are likely to win.
CAPPEX
Free scholarship search, school information and student feedback.
Computer Science Online
This is a resource to help current and prospective computer science students, and their families, understand their many financial aid options. There are more students seeking CS degrees now than ever before, and also more scholarship and grant opportunities. This guide shows students what to look for in a scholarship, how and when to apply, and what to expect.
Studentscholarships.org
Sign up for free to receive external scholarship opportunities matched to you from your basic information. Also gain access to detailed insightful information about various career fields, salaries, and areas of study.
I Know I Can
Grants, scholarships and helpful resources for Columbus City School students of all ages.
The Columbus Foundation
Over 200 scholarships offered for students with goals in higher education. The Columbus Foundation works with donors to establish scholarships with varying criteria. The Foundation's website features an online database that matches you to potential scholarships.
Accredited Schools Online
This site provides expert advice and resources on information about minority scholarships, grants,and other financial aid available to African-American, Hispanic, Asian American, Native American, LGBT, and female students.
Scholarship America
This site provides links to open scholarships, application tips, a Scholarship Coach Ebook along with financial aid information, test preparation, resources for international students and more. Helping students for of 50 years, Scholarship America "is the nation's largest non-profit, private-sector scholarship and educational support organization."
Mastersdegree.com
This site serves as a resource for Master's students, providing information about paying for graduate school. In additional to providing information about exam prep, a career center, and a how-to guide to financial aid in grad school, they also provide a searchable directory of over 2,500 graduate-level scholarships that can be narrowed by area of study or renewability.
Minority Scholarships
This site serves as a resource for Minority Scholarships available for full-time students who are enrolled as a High School Senior or Junior, Undergraduate or graduate, Postgraduate, Post secondary Student, STEM Field students and Technology students.
PhD Scholarship Searches
Search for scholarships and grants for various PhD disciplines.
Scholarship Guidance
Multiple university resource for students.
International Scholarship Opportunity: Developing Country
For students from a developing country from Asia or Africa; Enrolled in a college in US or Europe; Has not been sponsored or on any scholarship at the current university
Scholarship Search Platforms
Multiple platforms that compile large databases of available scholarships, providing filters to allow students to maximize their searches.

This feature is intended for Financial Aid questions.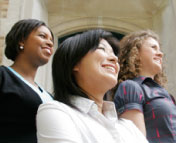 Ready to start an application?
Franklin's student-centered philosophy is one of the many reasons so many students choose us!
START YOUR APPLICATION