Scholarships
Scholarship Programs
Scholarship Program Descriptions and Applications

The Franklin University Undergraduate Scholars Program (USA)
A competitive scholarship program for Franklin undergraduate students. Scholarship recipients are selected based on prior academic achievement and quality of essay. Scholarships range from $200 to $2,500 each and are non-renewable. See the application (available in February) for deadlines, GPA, essay, and transcript requirements.
The Choose Ohio First Scholarship Program (COF)
The Ohio Board of Regents Choose Ohio First Program available for students seeking a bachelor degree in the STEMM disciplines (Science, Technology, Engineering, Mathematics, and Medicine). Franklin University's Computer Science (CS) and Management Information Sciences (MIS) programs have been approved for this competitive scholarship which will be funded jointly by the Ohio Board of Regents and Franklin University.
The award is for between $2,500 - $6,325 annually divided over two trimesters each year. The application will be available in May for the 2014-15 year.
External Searches and Scholarships
Below you will find several free scholarship searches engines and some external scholarships that are available:
International Education Financial Aid
This site serves as a resource for International students, providing information about scholarships, loans, and other programs that may be available.
Military.Com Scholarship Finder
Find millions of dollars in scholarships and grants exclusively for the military community
Fastweb.com - Free scholarship search database
CAPPEX - Free scholarship search, school information and student feedback.
Studentscholarships.org
Sign up for free to receive external scholarship opportunities matched to you from your basic information. Also gain access to detailed insightful information about various career fields, salaries, and areas of study.
I Know I Can
Grants, scholarships and helpful resources for Columbus City School students of all ages.
The Columbus Foundation
Over 200 scholarships offered for students with goals in higher education. The Columbus Foundation works with donors to establish scholarships with varying criteria. The Foundation's website features an online database that matches you to potential scholarships.
External scholarships are offered to students by various community and professional organizations. These and more opportunities are publicized in our student blog Connections.
Soroptimist Women's Opportunity Awards
Scholarship for women who are enrolled in an undergraduate program and are the primary financial support for their dependents. View their website for additional information on eligibility and completing the application process. The Application Deadline is December 1, 2013.
SMART Scholarship (Science, Mathematics & Research for Transformation)
Frank L. Greathouse Government Accounting Scholarship
Minorities in Government Finance Scholarship
Marketing Edge Scholarship
For information on other scholarships, please contact Franklin's Scholarship Specialist, Todd Hampel, at todd.hampel@franklin.edu.

This feature is intended for Financial Aid questions.
Testimonials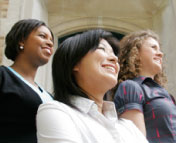 Ready to start an application?
Franklin's student-centered philosophy is one of the many reasons so many students choose us!
START YOUR APPLICATION