Scholarship Programs
Scholarship Program Descriptions and Applications

A competitive scholarship program for Franklin undergraduate students. Scholarship recipients are selected based on prior academic achievement and quality of essay. Scholarships range from $200 to $2,500 each and are non-renewable. See the application for deadlines, GPA, essay, and transcript requirements.
Cardinal Health Foundation CSCC Transfer Scholarship
Awarded Fall term for Columbus State Community College transfer students seeking a Healthcare related degree. Must have completed and passed both PF321 & Global Issues. Must have a cumulative Franklin University GPA of at least 3.0 and be enrolled at least six hours. Apply through the Franklin University Undergraduate Scholars Program. Application deadline for Fall 2013 is July 1st.
The Ohio Board of Regents Choose Ohio First Program available for students seeking a bachelor degree in the STEMM disciplines (Science, Technology, Engineering, Mathematics, and Medicine). Franklin University's Computer Science (CS) and Management Information Sciences (MIS) programs have been approved for this competitive scholarship which will be funded jointly by the Ohio Board of Regents and Franklin University.
The award is for between $2,500 - $6,325 annually divided over two trimesters each year. The application deadline is June 16, 2013. To apply, complete the application.
Current US military service member, military spouses and dependents, veterans
Must enroll in 2 trimesters in same academic year
Minimum GPA of 2.5 for undergraduate and minimum GPA of 3.3 for graduate
Application Deadline: September 5, 2013
Access the application for more information
Graduate or undergraduate student with a minimum GPA of 2.5
Must be enrolled in Fall 2013 and Winter 2014 terms
Awards start at $600
Application Deadline: September 5, 2013
Access the application for more information
Must complete a minimum of 12 credit hours per term unless the program is scheduled otherwise
Minimum GPA of 3.0
Recommended by a Franklin University faculty member
Awards start at $4,000
Application Deadline: September 5, 2013
Access the application for more information
External Searches and Scholarships
There are several free scholarship searches available:
External scholarships are offered to students by various community and professional organizations. These opportunities are publicized in our student blog Connections.
For information on other scholarships, please contact Franklin's Scholarship Specialist, Todd Hampel, at todd.hampel@franklin.edu.

This feature is intended for Financial Aid questions.
Testimonials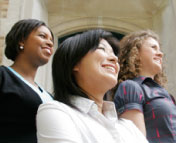 Ready to start an application?
Franklin's student-centered philosophy is one of the many reasons so many students choose us!
START YOUR APPLICATION