We're Sorry
There was an unexpected error with the form (your web browser was unable to retrieve some required data from our servers). This kind of error may occur if you have temporarily lost your internet connection. If you're able to verify that your internet connection is stable and the error persists, the Franklin University Help Desk is available to assist you at helpdesk@franklin.edu, 614.947.6682 (local), or 1.866.435.7006 (toll free).
Just a moment while we process your submission.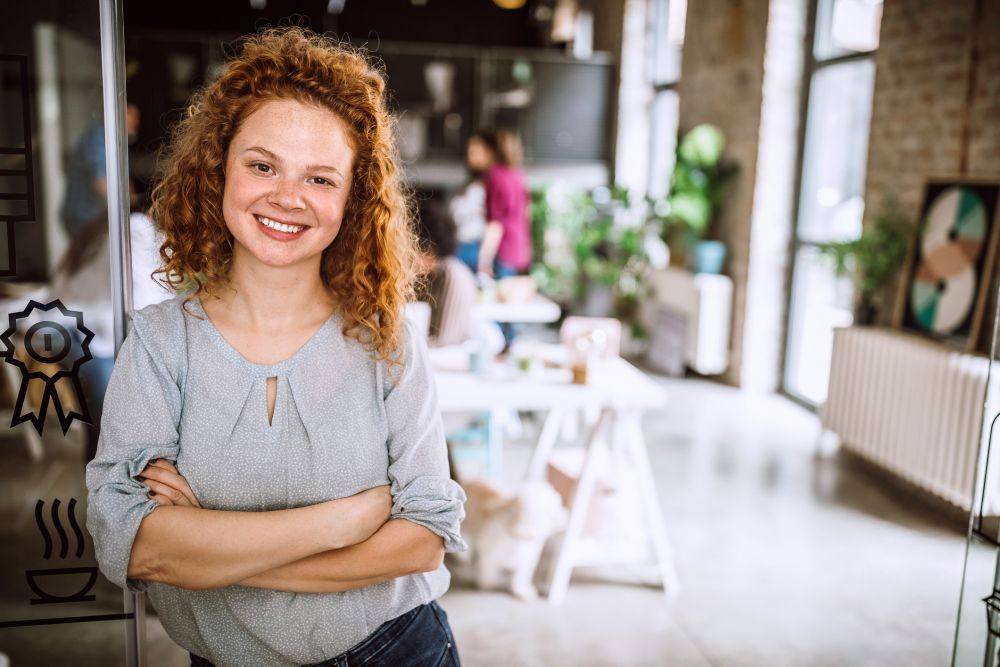 Is a Business Degree Worth It?
You already started your business career and have gained invaluable experience on the job. You don't want to pause your career, but you also know that a bachelor's degree can open doors to advancement, career change, or new jobs in thriving industries. So how do you do both? And does it really pay off in the long run?
Let's look at what a business degree really is, what it takes to earn it, why it's beneficial for your career. 
What Do We Mean By 'Business Degree'?
When someone refers to a 'business degree,' they are usually talking about a bachelor's degree that provides foundational knowledge across all business functions—like degrees in business administration, business management, or management and leadership. It's a shorthand that speaks to the broad focus of these programs. Other degrees in business are specialized in a single area—from accounting and finance to marketing and human resources.
While these are all technically business degrees, a bachelor's in business administration is the most comprehensive and flexible program. For these reasons and more, a business degree is a great fit for working professionals in any industry looking to advance their careers.
What's Required To Earn a Business Degree
Earning your business degree is an investment of time, energy and finances. Let's break down what you can expect to dedicate in order to get your business degree.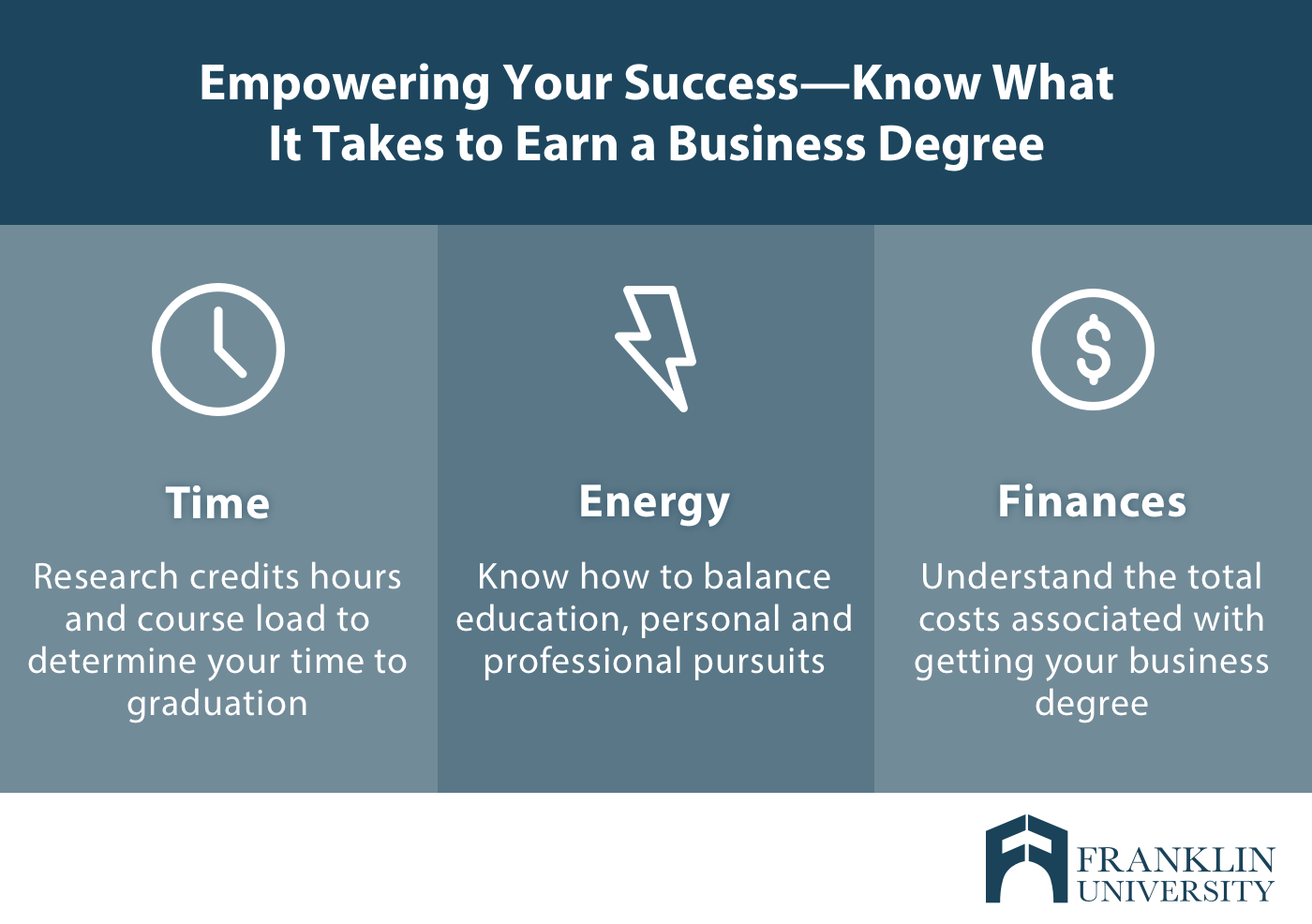 Time: The amount of time it takes to get your business degree can vary widely. In terms of credit hours, you will need to earn 124 credit hours to get your bachelor's in business administration. For a traditional student, this is typically a four-year degree. For a working professional, time to graduation depends heavily on things like transfer credit and course load. Do your research and find a business degree program that can maximize your previous education and experience to help you get your degree faster.
Energy: Getting your degree is more than just a time commitment. To be successful, you have to make your degree a priority—which means adjusting your professional and personal life to make space for your education. Especially when taking courses online, you need to create your own structure and schedule to empower your success. 
Finances: The cost of a business degree can vary widely. Tuition prices can cause sticker shock, but often the advertised price isn't what you will actually pay. Most online colleges charge a cost per credit hour, so if you are transferring in credit, it can significantly decrease your cost. You should also look into financial aid to see if you can get support in paying for your degree. Once you have a solid understanding of your costs, make sure you have the means to pay for your degree. And remember, a degree is a lifelong investment that, for most people, more than pays for itself in the long run.
The Impact Of A Business Degree — Separating Fact from Fiction
If you're researching going back to school to get your business degree you will see a lot of conflicting information. Some of these articles make pretty big claims—but how do they back it up? And how do you separate fact from fiction?
We asked Dr. Doug Ross, lead Business faculty member at Franklin University, to clear up some of the most common myths about getting a business degree.
Myth #1: I can supplement my professional experience with certificates and get the same value as a bachelor's degree.
Fact: "A bachelor's degree provides both immediate and lifetime value that is unmatched by lower-level credentials," says Dr. Ross. "When you look at the lifetime earnings of a bachelor's degree holder vs. someone with a high school diploma, a bachelor's degree holder earns over $1 million dollars more. A bachelor's degree can also be leveraged for a near-term pay raise that will outrival a certificate."
Myth #2: There aren't enough job opportunities for graduates of business programs.
Fact: "I hear this a lot—claims that business graduates are unemployed or underemployed. I think many of these claims are based on a narrow view of what you can do with a business degree," says Dr. Ross. "It really is one of the most flexible degrees that can be applied in every industry. No matter if you work in oil and gas, technology, healthcare, or any other industry, business graduates are needed. If you're only looking for job titles like 'Business Manager,' you're limiting your options too much."
Myth #3:Business is too general of a degree—it's not as valuable as a specialized degree.
Fact: "This is another myth that's taken hold in the wake of an influx of specialized degrees. A business degree is general—but that's a strength not a weakness," says Dr. Ross. "Businesses need people who can understand every function of a business and the impact they have on one another. A business degree gives you that holistic perspective and fuels collaboration within organizations. It also provides individuals flexibility throughout their career to transition between roles and business functions. If you're looking for more in-depth knowledge in a particular area of interest, look into business degrees that offer minors in that specialty."
Myth #4:I have my associate's degree and don't want to start all over to get my bachelor's degree in business.
Fact: "No one wants to start from scratch if they already have a degree," says Dr. Ross.  "And if you're going back to school to get your business degree, you shouldn't have to. Look for a program that will help you maximize the credits you've already earned and seamlessly transfer those toward your bachelor's degree. At Franklin, we help individuals with associate's degrees transfer up to 94 credit hours into our bachelor's program, helping them get their business degree faster."
Is It Worth It? The Choice Comes Down To Your Career Aspirations 
If you are a working professional who wants to advance your career in business, a business degree can be a gamechanger. A business degree can increase job prospects, create advancement opportunities, and increase your salary and lifetime income. It's a worthwhile investment in your career—now and into the future. You just have to find the right business degree program for you.
Franklin University's B.S. in Business Administration program focuses on giving you cutting-edge, real-world skills that will make a difference in your career from day one. We'll work with you one-on-one to maximize transfer credit and make it faster and more affordable to get your business degree. Explore everything the program has to offer to determine if it will help you reach your goals.
Download Now
8 Ways to Maximize Your FAFSA Benefits
Get insider tips to help you avoid common FAFSA mistakes and receive the maximum benefit possible.