We're Sorry
There was an unexpected error with the form (your web browser was unable to retrieve some required data from our servers). This kind of error may occur if you have temporarily lost your internet connection. If you're able to verify that your internet connection is stable and the error persists, the Franklin University Help Desk is available to assist you at helpdesk@franklin.edu, 614.947.6682 (local), or 1.866.435.7006 (toll free).
Just a moment while we process your submission.
Best Degrees for Older Adults Looking to Make Their Next Career Move
Are you a mid-career professional who is thinking about going back to school? You aren't the only one. According to the National Center for Education Statistics, the number of people 35 and older who enroll in college will grow 20% by 2025. This outpaces the expected 13% increase in the number of 18-24 year olds enrolling during the same time period.
There are many compelling reasons for working adults to go back to school. Frequent reasons we see include: 
Complete a degree they paused to get married or start a family
Skill up for a promotion
Have been laid off, and want to switch to a more stable industry
Need to meet new demands in a rapidly changing industry
Want to differentiate themselves in the job market
These are all great reasons to get a degree. But what opportunities await for those who do complete a bachelor's or master's degree mid-career? Let's take a look at the top careers for older professionals who want to switch industries, reenter the workforce, or climb the ladder.
5 High-Paying Jobs Great for Career Changers (and the Degrees to Match)
If you're looking to change careers or reenter the workforce, you want to make sure you're making a solid investment. As you're exploring career and degree options, look for a combination of faster than average growth, well-paying positions and advancement opportunities. Here are five different careers that fit the bill.
Information Security Analyst
Cybercrime is a growing and evolving threat to organizations at all levels. Information security analysts, also known as cybersecurity professionals, monitor their organization's networks to plan for, prevent and investigate security breaches.
Median Pay: $98,350 per year
Projected Growth (2018-2028): 32%
Ideal Fit: Individuals who have extensive analytical skills, are detail oriented and extremely inquisitive. 
Soft Skills: You also need to be a creative problem solver and stay on top of tech trends, as cybersecurity issues are constantly evolving. 
Best-Fit Degrees:B.S. in Cybersecurity or M.S. in Cybersecurity
 Computer and Information Research Scientists
Computer and information research scientists study and solve complex problems in computing for business, science, medicine, and other fields. They are on the forefront of innovation in high-demand fields like data science, robotics and computer programming, developing the next generation of software, hardware, artificial intelligence, and computer systems.
Median Pay: $118,370 per year
Projected Growth (2018-2028): 16%
Ideal Fit: Professionals with deep analytical, logical and critical thinking skills, as well as high mathematical proficiency. 
Soft Skills: Having strong communication and interpersonal skills will help excel in management roles.
Best-Fit Degree:M.S. in Computer Science or M.S. in Data Analytics
Administrative Services Managers
These professionals are responsible for planning, directing and coordinating support services for an organization. Responsibilities vary depending on the organization or industry, but typically include overseeing facility upkeep, equipment maintenance and upgrades, as well as day-to-day office operations.
Median Pay: $96,180 per year
Projected Growth (2018-2028): 7%
Ideal Fit: Professionals with a high attention to detail, time management and organization skills.
Soft Skills: Leadership and management experience is especially helpful when working in large organizations.
Best-Fit Degree: B.S. in Business Administration
Advertising, Promotions, and Marketing Managers
From setting budgets and negotiating contracts to developing marketing plans and selecting advertising media, these professionals help their organization or clients increase awareness, reputation and sales of products or services. There are a large number of roles in this career field, including account management, public relations, marketing and advertising, making it a flexible career path for those looking for a change.
Median Pay: $132,620 per year
Projected Growth (2018-2028): 8%
Ideal Fit: Professionals who can balance creativity and analytical skills, using data to generate new ideas for reaching the target consumer. 
Soft Skills: Interpersonal and communication skills are also vital for success as you'll often be presenting and selling your ideas to others. 
Best-Fit Degree:B.S. in Marketing or B.S. in Public Relations
Personal Financial Planner
Personal financial planners advise clients on comprehensive financial health, including investments, insurance, mortgages, savings, estate planning and taxes. They help people plan for both short- and long-term goals and make investments, monitor progress and identify opportunities to help achieve desired outcomes. 
Median Pay: $88,890 per year
Projected Growth (2018-2028): 7%
Ideal Fit: Analytical thinkers who keep their pulse on economic, investment and financial trends. 
Soft Skills: Interpersonal and communication skills are also needed to help gain the trust of clients and build long-term relationships.
Best-Fit Degree:B.S. in Financial Planning
5 Popular Advanced Degrees for Older Adults Who Want to Climb the Ladder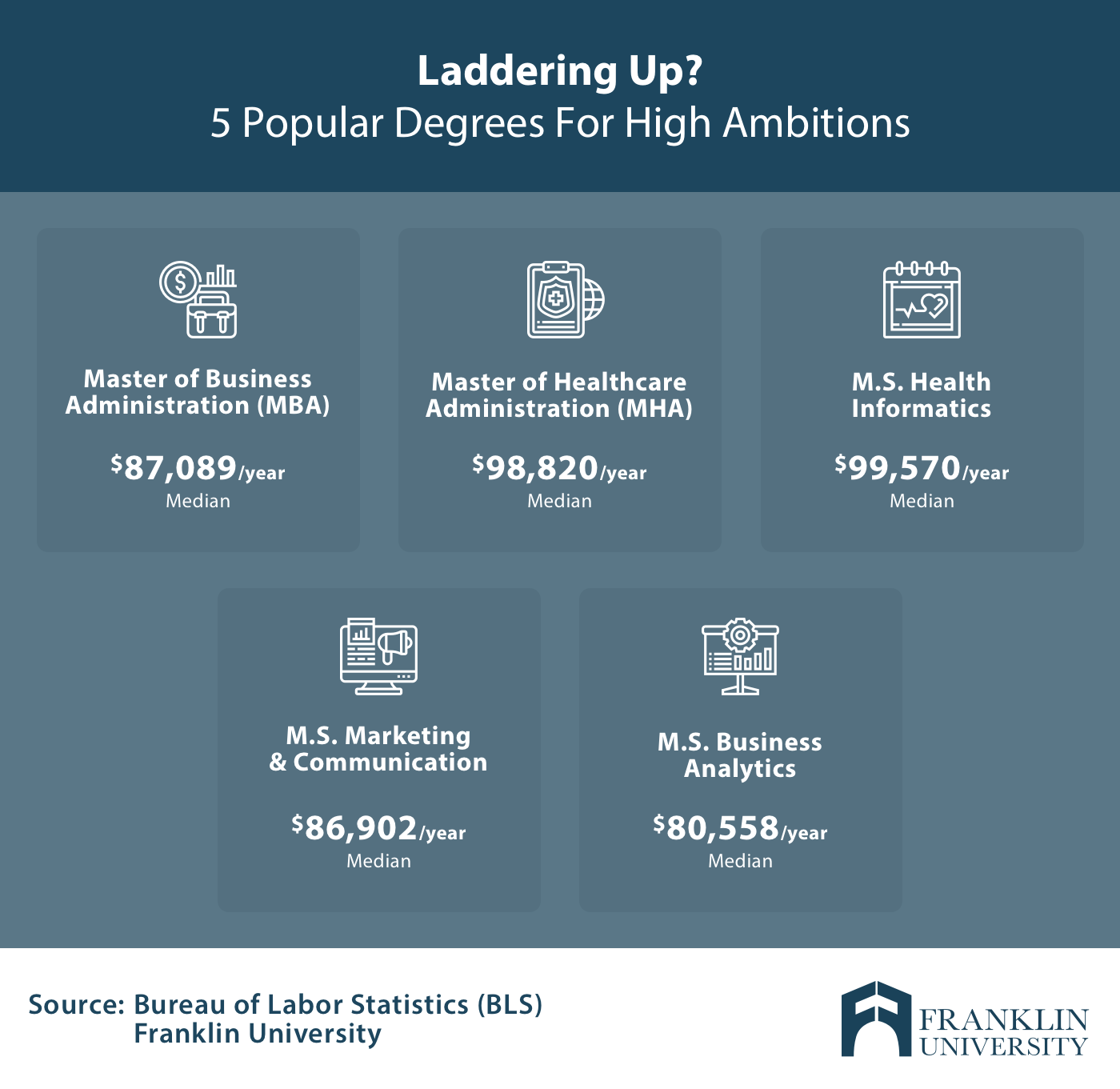 If you're looking to increase your upward mobility, an advanced degree can help you fast-track your next career move. When it comes to master's degrees, there are typically two tracks—generalist and specialist degrees. 
Generalist degrees provide a more flexible, broad-based education within a particular industry. Two of the most promising generalist degrees for older adults are:
Master of Business Administration (MBA): The MBA is an ever-popular degree for people looking to work their way up to leadership roles. The MBA gives you knowledge across all major business functions, positioning you to be a strategic leader who always keeps the big picture in mind. An MBA is great for anyone who wants to be a cross-functional business leader in almost any type of organization.
Master of Healthcare Administration (MHA): Healthcare is rapidly changing. The MHA prepares you to navigate the evolving healthcare landscape and take a leadership role at healthcare organizations of all shapes and sizes. This degree helps you address challenges unique to the healthcare industry, including balancing fiscal management with providing superior patient care. For anyone who wants to work at the top levels of healthcare, an MHA could be the right degree for you.
Specialist degrees focus on providing deep subject matter expertise, rather than cross-functional knowledge. Three high-growth specialist degrees for older adults are:
M.S. in Health Informatics: An advanced degree in health informatics helps you accurately collect and analyze healthcare data to improve efficiency and facilitate change at healthcare organizations. This specialization is on the cutting edge of how technology is transforming healthcare.
M.S. in Marketing & Communication: Marketing and communication have faced dramatic changes in the last five years. A master's in marketing and communication can help you take your practical skills to the next level while also sharpening your leadership skills. Since marketing is one of the main growth drivers for organizations, getting this degree can help you accelerate to the top.
M.S. in Business Analytics: Data is the driving force of business decision making today. A master's degree in business analytics helps you turn vast amounts of data into actionable insights and business strategies that will help your organization grow. This degree provides intense skillbuilding opportunities that will set you apart from other business leaders.
How to Choose the Right Degree For You
There are an extensive number of degrees that are ideal for older adults—these were just the beginning. When choosing the next step in your career, you want to make sure it's the best fit.
As your considering degrees as an older adult, ask yourself these questions:
Am I truly passionate about this field and will I find this work fulfilling now and into the future?
Does this degree provide immediate value to me and my career? 
Will this degree help me build skills that will still be relevant in 5 or 10 years?
Does this degree help me apply skills and experience I already have in a new way to help further my career?
Important questions like these can help you discover the degree that will contribute to your success and will be rewarding to earn.
Choose an Online Program Designed for Older Working Adults
Online education is a flexible choice that appeals to older adults who want to continue working as they complete a degree. Not only is online education more attainable, it's also proven to be successful. 
According to the National Student Clearinghouse Research Center, adults who completed some college, but did not complete a degree, succeed when they choose online education. Of the 12 percent who choose an online program upon reentry, nearly all of them complete their studies (11 percent of all graduates).
Franklin University offers extensive online degree programs that are built for the needs of working adults. 
"Our philosophy is theory to practice," says Dr. Doug Ross, Program Chair of Business Administration at Franklin University, "What you learn today can literally be used tomorrow. We believe you shouldn't wait to see the value of your degree, it should make an immediate impact."
Explore all of Franklin's online degrees at the bachelor's and master's levels to see how getting a degree can help you succeed in the next phase of your career.
Download Now
8 Ways to Maximize Your FAFSA Benefits
Get insider tips to help you avoid common FAFSA mistakes and receive the maximum benefit possible.