Franklin University Board of Trustees Elects New Chairman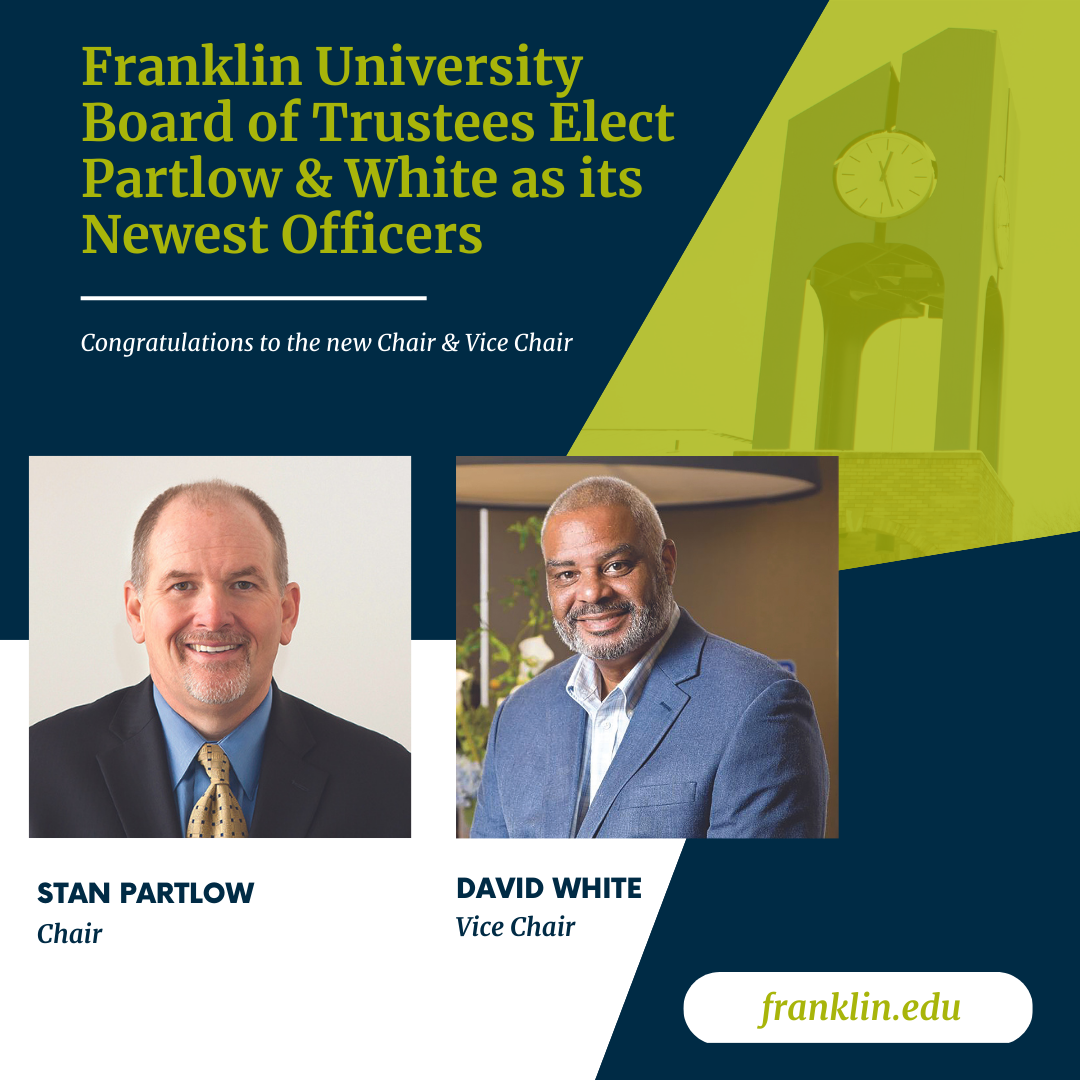 Columbus, OH (January 31, 2023)
During its regularly scheduled January Annual Meeting of the Membership, Franklin University's Board of Trustees unanimously elected Stan Partlow as its new chairperson. Partlow replaces Melissa Gutierrez, who served as Board Chair for the past term.  
"I am both honored and humbled to have been selected to lead the Franklin University Board of Trustees," shared Stan.  Franklin University provides an opportunity for our students to change their lives by working with their peers and our incredible faculty and staff as they pursue their degrees. I am committed to working with our very talented Board of Trustees and the Franklin staff to continue to create transformational opportunities for our students around the globe."
Stan Partlow- Chair
Stan Partlow currently serves as the Chair of the Board.  Stan retired from American Electric Power in 2020. He served as AEP's Vice President and Chief Security Officer, a post he was appointed to on September 1, 2015. Stan joined AEP as the Director of physical security and aviation services on Oct. 31, 2005. During his career with AEP, Stan had leadership responsibilities for physical security operations, access control, asset protection for AEP facilities and properties, AEP´s aviation services department, cyber security, procurement, and the motor vehicle fleet. Before joining AEP, Stan served the Law Enforcement community for over 25 years. Stan served the Columbus Division of Police for over 21 years and retired as the Commander of the Detective Bureau. Stan served as a Special Agent with the Federal Bureau of Investigation from 1984-1988, where he was responsible for various criminal investigations. As a former adjunct professor at Franklin University, he taught in the Leadership and Public Safety Management programs. Stan has also been an adjunct professor at Capital University. Stan holds a Juris Doctor degree from the Capital University School of Law (1995), a Master of Science degree in administration from Central Michigan University (1990), and a Bachelor of Arts degree in psychology from Bowling Green State University (1980).
David White - Vice Chair
During the January meeting, the Board also elected David White as the Senior Vice President, Technology Practice for RTI International.  David previously held the position of Chief Information Officer at Battelle. He and his team were responsible for strategically aligning and advancing corporate application development, infrastructure platforms, and development initiatives across the enterprise. David has held various executive-level positions with the state of Ohio, including Executive Program Manager of the Ohio Administrative Knowledge System, Director of State Accounting within the Office of Budget and Management, and Director of Revenue Management within the State of Ohio Treasury. He is a member of the CIO Advisory Board for Box.com, the advisory board of the Columbus African American Leadership Academy, and the COSI Community Board. David attended the Ohio State University, where he studied electrical engineering; Columbus State Community College, where he earned a degree in business administration and Franklin University, where he earned a degree in computer management.  At Franklin, Mr. White currently serves as the Vice Chair of the Board and serves on the Audit, Controls, and Compliance Committee and the Infrastructure Committee.
Ralph Sanese - Secretary
Mr. Sanese is Vice President Business Development at AVI Foodsystems and President of Sanese Services, Inc., a family-owned foodservices and vending company. He is a board member of the Simon Kenton Council of the Boy Scouts of America and is active in several other civic organizations. Mr. Sanese, a Franklin University alumnus, serves on the Infrastructure Committee and the Human Resource & Advancement Committee.
The Franklin Board of Trustees governs the University utilizing leadership comprised of respected business and community leaders. Members of the University's Board apply their extensive business and professional experience to help guide the direction of the University and help it effectively adapt to anticipated changes in society and the business community. Through their leadership and industry insight, Franklin University has stayed true to its philosophy of being a pioneer in meeting the needs of adult students who have the ambition to continue their education in combination with other responsibilities by adapting to their needs and responding to changes in society, professions, and the business community. 
Other Board members include Stacey Armstrong, Jack Cartner, Jamie Crane, Mary Duchi, Phil Fankhauser, Gary Flynn, Ted Ford, Anthony Gonsalves, Melissa Gutierrez, Bruce Hagen, Gary James, Valerie Pitteroff, Peter Roche, Thomas Shoupe, Pamela Springer, David Stone, Jennifer Thomas, and Matthew Toussant. For more information on the Franklin University Board of Trustees: https://www.franklin.edu/about-us/faculty-staff/board-trustees
About Franklin University
Accredited, nonprofit, and dedicated to educating adults since 1902, Franklin provides onsite course options at our Main Campus in downtown Columbus, Ohio, and is an innovator in providing personalized online education. The University offers applied in-demand undergraduate, masters, and doctorate programs that enable adult learners to achieve their educational and professional goals. Through agreements with partner institutions, the University also offers international academic programs, including its top-ranked MBA.
Franklin University is accredited by the Higher Learning Commission and holds specialized accreditations for specific academic programs through the International Accreditation Council for Business Education, the Commission on Collegiate Nursing Education, the Council for the Accreditation of Educator Preparation, and the Commission on Accreditation of Health Informatics and Information Management Education. The National Security Agency and the Department of Homeland Security have designated Franklin University as a National Center of Academic Excellence in Cyber Defense Education (CAE-CDE).