Next Start Date
Jun 26, 2023
About Start Dates
Additional future start dates include:
Fall 2023
Aug 14, 2023

Start dates for individual programs may vary and are subject to change. Please request free information & speak with an admission advisor for the latest program start dates.
Placement Tests
GMAT/GRE not required for admission
Accreditation
CCNE
Accreditation Information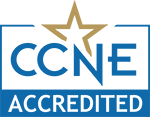 The Bachelor of Science in Nursing program and the Master of Science in Nursing program at Franklin University are accredited by the Commission on Collegiate Nursing Education, 655 K Street NW, Suite 750, Washington, DC 20001, 202-887-6791.
---
The Doctor of Nursing Practice program and post-graduate APRN certificate program at Franklin University are pursuing initial accreditation by the Commission on Collegiate Nursing Education (http://www.ccneaccreditation.org). Applying for accreditation does not guarantee that accreditation will be granted.
Advance your practice with an MSN degree
Whether your professional goal is to take on a specialization, assume an advanced leadership role or pursue a doctoral degree, the M.S. in Nursing - Generalist track will provide you with the knowledge and skills to excel in a variety of healthcare organizations or educational settings. You'll hone your critical thinking, creativity and problem-solving skills to deepen your nursing knowledge in order to coordinate healthcare programs within complex systems in an era of healthcare reform.
 
Finish in as Few as 18 Months
Earn your degree and prepare for advancement faster.
$2,000 Smart Start Scholarship
New students in the MSN-Generalist program qualify for an automatic $2,000 scholarship.
Online Coursework
Balance earning your degree with other work-life commitments.
Contemporary Curriculum
Evaluate and study trending nursing topics throughout the program.
Learn from the Best
Benefit from the experience of your instructors – seasoned, in-field practitioners.