Fall 2020 Robert L. Bailey Teaching Award Recipients Announced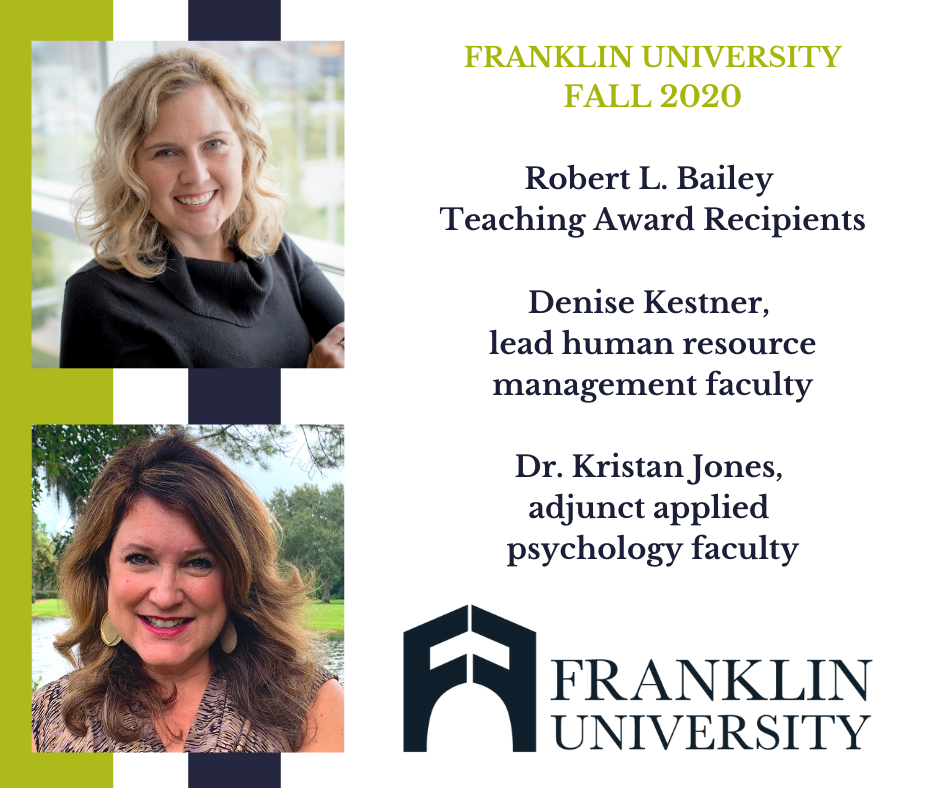 Columbus, OH (January 26, 2021)
Franklin University, one of the leading educators of working adults in central Ohio, celebrates its 166th Virtual Commencement on Friday, Jan. 29 at 7 p.m. (EST). Along with honoring the graduates, Franklin recognizes Denise Kestner and Dr. Kristan Jones, from its faculty as recipients of the distinguished Robert L. Bailey Teaching Award.
Congratulations to this trimester's recipients: Denise Kestner, lead human resource management faculty, and Dr. Kristan Jones, adjunct applied psychology faculty.
Denise Kestner began teaching at Franklin University in 2007, and has taught every course in both the undergraduate and graduate human resources management programs at the University. In addition to her current role as lead faculty, Denise still enjoys teaching the capstone class in the B.S. Human Resource Management program. Denise earned both her bachelor's degree in psychology and her master's in counseling with a focus on vocational counseling from the University of Florida. After relocating to central Ohio, she enrolled in the master's program in Labor Relations, Human Resources and Management at The Ohio State University and completed her degree just 18 months later. Her human resources career has spanned 25 years in both the corporate and consulting arenas. In addition to her teaching and consulting work, Denise is active on several nonprofit boards and volunteers as a historic tour guide in Dublin, Ohio, where she resides.
Dr. Kristan Jones has been an adjunct professor at Franklin since 2000, teaching in the undergraduate psychology program as well as the graduate business psychology program. She was part of the original teaching cohort for the M.S. in Business Psychology and serves on the program's advisory board. Her teaching style focuses on the connection of theories and models into practical settings to help organizations develop their people and processes. Kristan is currently the director of learning and development for Raymond James, where she is responsible for leadership development and instructional design, and leads the Learning Council. Previously, she held learning and organizational development positions at Honda and Amgen. She has a Ph.D. from Walden University in industrial and organizational psychology. She also earned a master's degree in organizational management and a bachelor's degree in English. She is an avid reader and resides with her family in Tampa, Florida.
About the Robert L. Bailey Teaching Award
Each trimester, two faculty members are honored with the Robert L. Bailey Teaching Award. Graduating students are asked to identify one undergraduate and one graduate faculty member who had the most significant influence on them throughout their educational experience at Franklin University. The award recognizes those who have challenged students intellectually and guided them in finding the significance of the course content as it relates to them both personally and professionally.
While more than 100 graduate and undergraduate faculty members are nominated each trimester – clearly showing the magnitude of interaction between students and faculty at Franklin University – the faculty members receiving the most nominations are awarded this honor.
These awards are funded through an endowment established by State Auto Insurance Companies in recognition of Robert L. Bailey, who served State Auto for 28 years in various positions, including President, CEO, and Chairman, until his retirement in 2000. Bailey is also a past Chair and a Trustee Emeritus of Franklin University's Board of Trustees.
About Franklin University
Accredited, nonprofit and dedicated to educating adults since 1902, Franklin provides on-site course options at our Main Campus in downtown Columbus, Ohio, and is an innovator in providing personalized online education. The University offers applied in-demand undergraduate, master's and doctorate programs that enable adult learners to achieve their educational and professional goals. The University also offers several academic programs internationally, including its top-ranked MBA, through agreements with partner institutions.
Franklin University is accredited by The Higher Learning Commission and holds specialized accreditations for specific academic programs through the International Accreditation Council for Business Education, the Commission on Collegiate Nursing Education and the Commission on Accreditation of Health Informatics and Information Management Education. Franklin is only one of three schools in Ohio designated as a National Center of Academic Excellence in Cyber Defense Education (CAE-CDE) by the National Security Agency and the Department of Homeland Security.