Franklin Hosts 171st Commencement Ceremony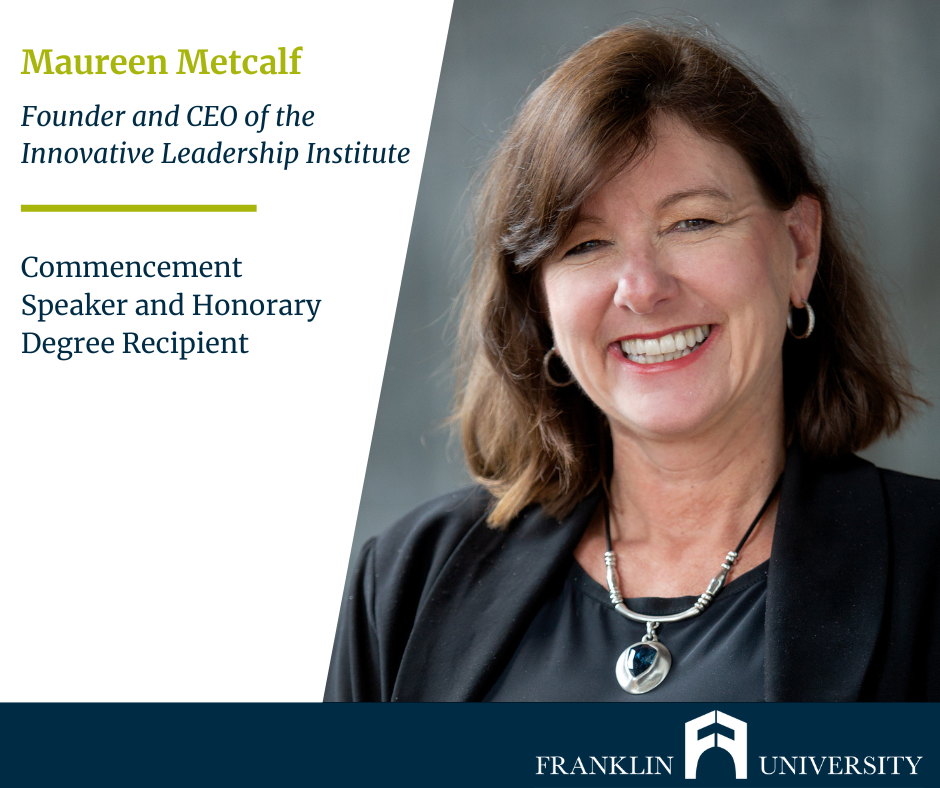 Columbus, OH (September 6, 2022)
Franklin University, one of the leading educators of working adults, will hold its 171st Commencement Ceremony on Friday, Sept. 9, 2022, at 7 p.m. (EDT), during which the University's newest degree candidates will receive their diplomas. This commencement ceremony will take place at The Greater Columbus Convention Center, Exhibit Hall A, 400 N. High St. in downtown Columbus.
Commencement has always been a time of celebration. For Franklin University, the event marks a tremendous sense of achievement for students who completed their degrees often while juggling work, families and more. The University is proud to honor the achievements of this newest class of graduates and invites the community to join in the celebration.
Joining the Sept. 9 ceremony will be the newest group of graduates traveling from Muscat, Oman. These new graduates earned a Franklin MBA offered through the Modern College of Business and Science (MCBS) in Oman. Through the program, Franklin's MBA classes are taught in English by a combination of Franklin faculty who travel to Oman, as well as local faculty from MCBS and other institutions.
Commencement Speakers
Receiving an honorary degree and speaking at Franklin's 171st Commencement is Maureen Metcalf. Maureen is the founder and CEO of the Innovative Leadership Institute. A highly sought-after expert in anticipating and leveraging business trends, Metcalf helps leaders elevate their leadership quality and transform their organizations to create sustainable impact and results. As a preeminent change agent, Metcalf has set strategic direction and then transformed her client organizations to deliver significant business results such as increased profitability, cycle time reduction, improved quality, and increased employee effectiveness.
She captured her 30 years of experience and success in an award-winning series of books used by public, private, and academic organizations to align company-wide strategy, systems, and culture with innovative leadership techniques. A fellow of the International Leadership Association, she also serves on the advisory board at the Franklin University Leadership Center and the School of Strategic Leadership at James Madison University.
She shares her hard-won insights through conference speaking, industry publications, radio shows and podcasts, and video presentations. She is a regularly featured author for Forbes.com. In addition, she hosts a Voice America international radio show focused on innovative leadership. 
Maureen is the author of an international award-winning book series on innovative leadership, including the recently released "Innovative Leaders For Health Care." Her contributions to leadership, innovation and technology earned her recognition by being named among the Ten Influential Business Leaders to Watch 2020, as well as Comspark Woman of the Year in Technology 2020 and Business First BizTech Executive of the Year 2019.
Also addressing the graduates will be graduating student speaker Trina Stearns. Trina is an RN program manager for Columbus Public Health, where she currently serves as an emergency response team member. She has more than 15 years of experience in multiple areas of nursing including public health, primary care, health coaching, corrections, nursing informatics and homecare.
Amid her Christian faith, Trina has served the community by working with adolescents and young adults in ministry. She is purposeful when presented with the opportunity to educate citizens about health risks and the importance of leading a healthier lifestyle. Trina is passionate about serving others and hopes to continue providing health education and positively influencing lives.
Trina is an associate member of the Ohio Nurses Association and the National Black Nurses Association. She holds an associate's and a bachelor's degree in nursing, as well as a bachelor's degree in business administration. This Friday she graduates with her M.S. in Nursing. 
Trina has one daughter and two granddaughters. She feels the most valuable thing spent on family is time. She believes life is short and every day is a gift and an opportunity to grow. 
Note:  The Summer 2022 commencement ceremony will be streamed live for those families and friends who wish to watch the ceremony from home. A link to access the live stream will be made available on the Graduation Information page (franklin.edu/commencement) at 7 p.m. (EDT) on Friday, September 9, 2022.
About Franklin University
Accredited, nonprofit, and dedicated to educating adults since 1902, Franklin provides onsite course options at our Main Campus in downtown Columbus, Ohio, and is an innovator in providing personalized online education. The University offers applied in-demand undergraduate, masters, and doctorate programs that enable adult learners to achieve their educational and professional goals. Through agreements with partner institutions, the University also offers international academic programs, including its top-ranked MBA.
Franklin University is accredited by the Higher Learning Commission and holds specialized accreditations for specific academic programs through the International Accreditation Council for Business Education, the Commission on Collegiate Nursing Education, the Council for the Accreditation of Educator Preparation, and the Commission on Accreditation of Health Informatics and Information Management Education. The National Security Agency and the Department of Homeland Security have designated Franklin University as a National Center of Academic Excellence in Cyber Defense Education (CAE-CDE).