Owens Community College and Franklin University Partner to Offer Pathway Portal and Special $298 Tuition Rate for Eligible Students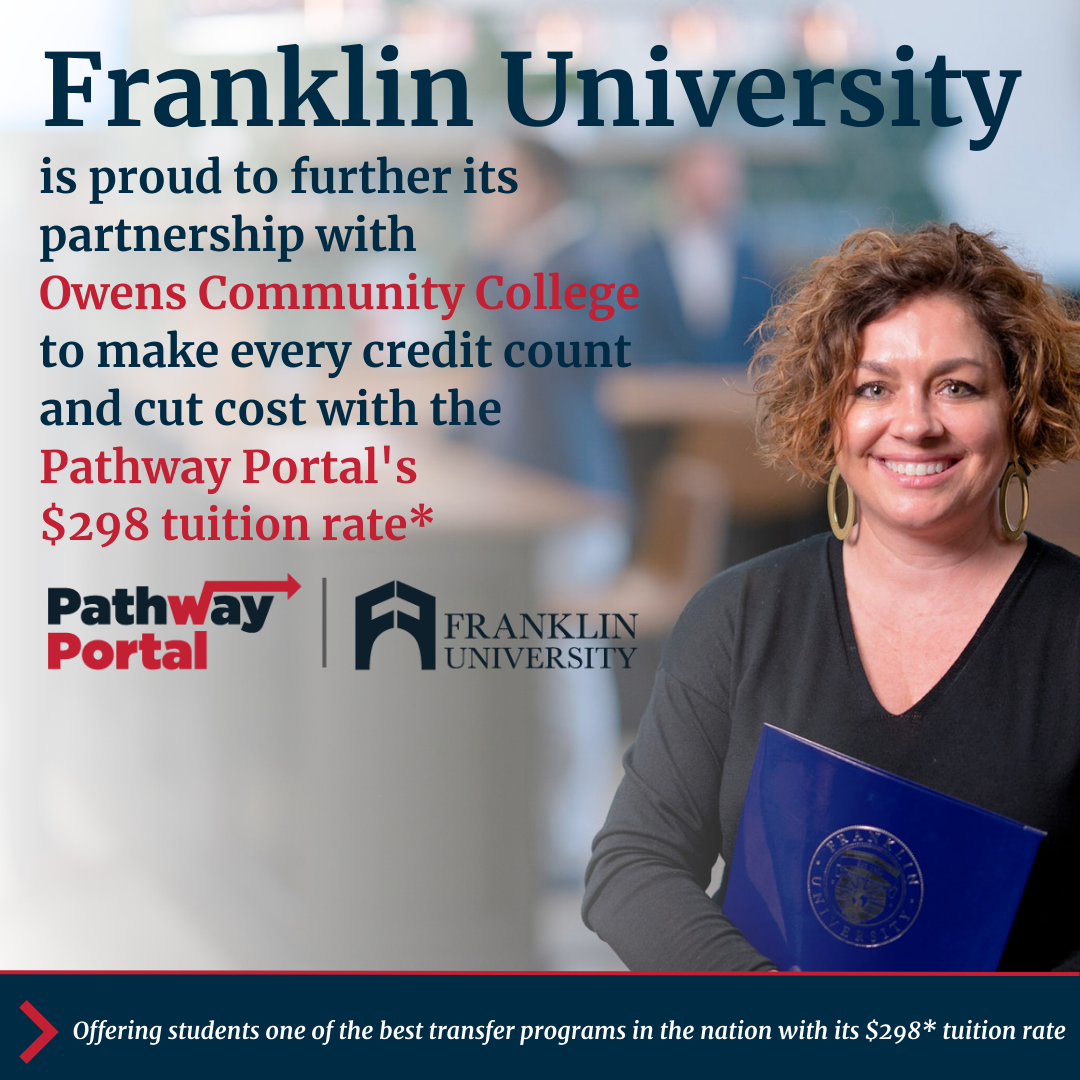 Columbus, OH (May 5, 2023)
Franklin University is proud to announce that it has expanded the articulation partnership it began in 2002 with Owens Community College to now include access to its Pathway Portal, providing a streamlined transfer and application process for its community college partner students. The Pathway Portal furthers Owens' and Franklin's commitment to helping community college students make the most of their tuition dollars by pairing a streamlined process with one of the best transfer programs in the nation, along with a $100 per credit hour discount offering a new lower tuition rate of $298 for Pathway Portal students who meet eligibility requirements.
Owens Community College is the newest institution to join a growing number of community colleges partnering with Franklin to provide access to the cutting-edge Pathway Portal that helps make the most of community college transfer students' time and tuition by showing students how the courses they have obtained through their associate degree work transfer toward one of Franklin's 28  bachelor's degrees to help find their best fit. Further, starting in fall 2023, those community college students and alumni of Owens and Franklin's other partner institutions who have opted into the Pathway Portal and meet eligibility requirements will receive a special $298 Pathway Portal tuition rate, helping provide a solution for those continuing their education affordably and transparently.
With a college degree becoming necessary for individual economic opportunity and America's competitiveness in the global economy, Franklin looks to positively impact its future students while optimizing its 3+1 partnership programs within its Community College Alliance. More than 1,400 students from nine current Pathway Portal partner institutions have already opted into the Pathway Portal. These students are working toward earning their associate degree with Owens Community College and other current Pathway Portal partners Clark State Community College, Columbus State Community College, Eastern Gateway Community College, Edison State Community College, Lorain County Community College, Rhodes State College, Sinclair Community College, and Washington State Community College.

About Owens Community College
Owens Community College has served Northwest Ohio since 1965 as an accredited two-year, state-assisted institution of higher education with an open-door admission policy. With a commitment to providing small classes, personal attention and unmatched affordability, Owens serves the diverse academic needs of credit and non-credit students offering more than 70 academic programs, seamless transfer opportunities and short-term training with an emphasis on closing workforce skills gap. For more information, visit www.owens.edu.
About Franklin University
Accredited, nonprofit, and dedicated to educating adults since 1902, Franklin provides onsite course options at our Main Campus in downtown Columbus, Ohio, and is an innovator in providing personalized online education. The University offers applied in-demand undergraduate, masters, and doctorate programs that enable adult learners to achieve their educational and professional goals. Through agreements with partner institutions, the University also offers international academic programs, including its top-ranked MBA.
Franklin University is accredited by the Higher Learning Commission and holds specialized accreditations for specific academic programs through the International Accreditation Council for Business Education, the Commission on Collegiate Nursing Education, the Council for the Accreditation of Educator Preparation, and the Commission on Accreditation of Health Informatics and Information Management Education. The National Security Agency and the Department of Homeland Security have designated Franklin University as a National Center of Academic Excellence in Cyber Defense Education (CAE-CDE).