Assessment
Welcome to Assessment at Franklin University
Why should you care about assessment? Assessment tells us how to improve our programs to help you succeed as a learner.
This is how we do it...
Start by clicking the video below to see the why, what, and how of assessment.
Mission of assessment at Franklin University
Assessment at Franklin University is designed to foster documented, continuous improvement of student learning and success that includes measurements, conversations, and the application of lessons learned to promote sustained incremental progress.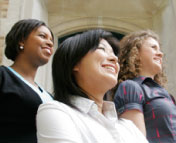 Ready to start an application?
Franklin's student-centered philosophy is one of the many reasons so many students choose us!
START YOUR APPLICATION