Financial Aid FAQ
Financial Aid FAQ (Frequently Asked Questions)
Our Financial Aid staff works hard to provide you with all the information you need to finance your education. The following Financial Aid frequently asked questions (FAQs) will help you get started. Visit studentaid.gov for a comprehensive view of the financial aid process.
To get more information from Franklin University Financial Aid like us on Facebook.


When do I need to complete my Free Application for Federal Student Aid (FAFSA)?
The FAFSA must be completed each year. The financial aid award year begins with Summer Trimester and runs through the following Fall and Winter Trimesters. Beginning with the 2017-18 FAFSA, students will report income information from two years prior, which in this case will be your 2015 tax information. Since your 2015 taxes are most likely completed, you can use that information to complete your FASFA when it becomes available on October 1. If you already completed the FAFSA for the previous year, you will generally have the option of completing a renewal application to save time. You can complete the FAFSA at any time during the term, however, to be considered for maximum aid eligibility you must complete the FAFSA by the following published priority deadline for each trimester:
Summer Trimester March 15
Fall Trimester June 15
Winter Trimester October 1
For further information regarding applying for aid at Franklin, please visit Applying for Aid.
What is a Federal Student Aid (FSA) ID?
A FSA ID is comprised of a username and password and can be used to login to certain Federal Student Aid websites, such as the Free Application for Federal Student Aid (FAFSA®).
The security of your FSA ID is important. Your FSA ID can be used to:
Electronically sign Federal Student Aid documents,
Access your personal records, and
Make binding legal obligations.
If you are a parent and need to electronically sign your child's FAFSA, you need your own FSA ID. If you have more than one child attending college, you can use the same FSA ID to sign their applications.
After your name, Social Security number, and date of birth, are verified with the Social Security Administration (SSA), you can use your FSA ID to access these Federal Student Aid systems:
FAFSA
NSLDS
StudentLoans.gov
Agreement to Serve (ATS)
My Federal Student Aid
Where do I get my FSA ID?
If you do not already have an FSA ID and would like to apply for one, select the Create an FSA ID tab on the FSA ID log-in page. For questions regarding the FSA ID please call 1.800.4.FED.AID.
How do I complete the FAFSA?
The quickest and easiest way to complete the FAFSA is to fill out the online application for federal student aid. Visit the Applying for Aid section of our website. You can also fill out a paper-based version of the FAFSA or complete it over the phone by calling 1.800.4.FED.AID, but the processing time is considerably longer. Franklin University does not supply the paper form.
Where can I get assistance to complete the FAFSA?
The Federal Student Aid Information Center (FSAIC) provides FAFSA on the Web Live Help when filling out the FAFSA (click on the Contact Us tab). You can also call FSAIC at 1-800-4-FED-AID (1-800-433-3243). If you are hearing impaired call the TTY line at 1-800-730-8913. You may also schedule an appointment with a Financial Aid Counselor at Franklin. Printing out and completing the FAFSA on the Web Worksheet for the appropriate year prior to filling out the online FAFSA is very helpful.
Important Note: If you make an appointment to complete the FAFSA with a Franklin Financial Aid Counselor, you are required to have an active FSA ID and be prepared with applicable documentation needed (tax returns, etc).
What is IRS Data Retrieval?
IRS Data Retrieval is an easier way to provide tax information! With just a few simple steps, most students and parents who have completed their IRS tax return will be able to view and transfer their tax information into the FAFSA. Using the IRS Data Retrieval Process, either when initially completing a FAFSA or by using the corrections functionality, provides you with the fastest, easiest, and most secure solution for meeting verification requirements.
IRS Data Retrieval of your 2015 Tax Return Transcript (2017-18 FAFSA) is available now. If you file your taxes electronically, IRS Data Retrieval will be available for download to your FAFSA in approximately 2 weeks. If you file a paper tax return, it will be available for download in approximately 8 weeks.
What is the Expected Family Contribution (EFC)?
The EFC is the number that's used to determine your eligibility for federal student financial aid. This number results from the financial information provided in the FAFSA application. The EFC is reported on the Student Aid Report (SAR).
What is a Student Aid Report (SAR)?
The SAR summarizes all the information a student provides on the FAFSA. The SAR will usually contain the EFC. The EFC will appear in the upper right-hand portion of a paper or electronic SAR. The Data Release Number (DRN) will also be on the SAR. You will receive your SAR online if you provided a valid e-mail address on the FAFSA.
Can I just apply for financial assistance from the State of Ohio and not complete a FAFSA?
No. You are required to complete the FAFSA in order to be considered for state funds. You will be considered for maximum state and federal eligibility according to the EFC reported on your SAR.
Are graduate students eligible for state/federal grants?
No. Graduate students are not eligible for state or federal grants, but are generally eligible for unsubsidized federal student loans.
What criteria determine dependency status?
You are considered an independent student if you meet one of the following criteria:
2017-18 FAFSA-born before January 1, 1994.
If you can provide a copy of a court's decision that you were an emancipated minor or were in legal guardianship immediately before you reached the age of being an adult in your state (age 18 in Ohio). The court must be located in your state of legal residence at the time the court's decision was issued.
Married as of the date you filed the FAFSA application. Franklin will not process mid-year marital status changes.
Will be a graduate or professional student at the start of the award year
Currently serving on active duty for purposes other than training
Are a veteran of the U.S. Armed Forces
Have dependents other than a spouse for which you provide more than half of their support.
If at any time since you turned age 13, you had no living parent (biological or adoptive), even if you are now adopted; or you were in foster care, even if you are no longer in foster care today; or you were a dependent or ward of the court, even if you are no longer a dependent or ward of the court today. For federal student aid purposes, someone who is incarcerated is not considered a ward of the court.
Have been determined at any time since July 1, 2016 for the 2017-18 FAFSA to be an unaccompanied youth who was homeless or self-supporting and at risk of being homeless.
If you do not meet any of the requirements listed above, you are considered dependent and are required to submit parental financial information on your FAFSA and any other applicable financial aid documents.
Can I appeal a dependency status?
You may be considered for an appeal if:
You have mitigating circumstances and supporting documentation that you are no longer in contact with/receive financial support from your parents.
You are still in contact with your parents, but they are unwilling to provide financial information for the FAFSA, you will need to contact the Financial Aid office to schedule an appointment to a Parental Non-Disclosure Appeal.
Contact us to schedule an appointment with a Financial Aid Counselor to discuss the possibility of a appealing and required documentation.
If I get married, can I change my marital status on the FAFSA?
Franklin will not process mid-year marital status changes. We will use the marital status reported as of the day you completed your FAFSA. Franklin will not process mid-year marital status changes.
What is verification?
Verification is a process in which the Financial Aid office is required to compare the information provided on the FAFSA with information reported on your (your spouse's if married, or parent's if dependent) federal tax information/W-2's and Franklin's internal verification forms. You can be selected for the verification process by the government or through an internal selection process.
If you are selected for verification, you will not be packaged with financial aid eligibility (federal or state) until all documents have been received and reviewed for accuracy.
How will I know if I'm selected for verification?
If you have been selected for verification, Franklin will notify you via email of what documents you need to submit.
How do I accept my awards?
For information on how to accept your awards, visit Awarding Process
What else do I need to submit other than my award letter?
If you intend to borrow student loans, you must have a completed, signed Master Promissory Note (MPN) and Loan Entrance Counseling on file.
Where can I complete a Master Promissory Note (MPN)?
You can access an MPN from the Financial Aid Forms page on the Franklin website.
What is Student Loan Entrance Counseling and why must I complete this process?
Entrance counseling is required by federal regulations for all first-time borrowers at a school. It gives an overview of the Federal Loans Program and discusses specific topics related to types of loans, interest rates, borrower rights and responsibilities, etc. This counseling session can provide tips and tools for you to develop a budget for managing educational expenses. Loan Entrance Counseling can be accessed from the Financial Aid Forms page or for further information view the Loan Process page of the Franklin website.
What is Student Loan Exit Counseling and why must I complete this process when I am in school or returning to school?
Exit counseling is federally mandated when you have stopped attending school or have dropped below half-time, regardless of whether you intend on returning. Student Loan Exit Counseling can be accessed from the Financial Aid Forms page or for further information view the Loan Process page of the Franklin website.
What is the difference between Subsidized and Unsubsidized Direct Loans?
Both Subsidized and Unsubsidized Direct Federal Loans are funded through the Federal Direct Loan program and administered by the federal government.
Subsidized Loan - the federal government pays the interest on your Subsidized loan while you are enrolled at least half-time. Eligibility for Subsidized Loans is determined by financial need, are for a limited eligibility period, and are available to students seeking an undergraduate degree.
Unsubsidized Loan - you are responsible for Unsubsidized loan while enrolled in school. You have the option to pay the interest or defer the payment until after graduation. Eligibility for Unsubsidized loans is available to both undergraduate and graduate level students.
Is there a limit on the total amount of loan funds I can receive throughout a single academic year or total years of enrollment?
Yes. There are federally mandated aggregate limits that you cannot exceed, dependent on grade level and dependency status. See Types of Financial Aid for more information:
Do I have to accept all of the funds detailed on my award letter?
No. While all grant funds are automatically accepted for you, you are able to accept a reduced amount of funds based on your discretion. Please note the following stipulations:
The funds must be divided evenly over all of the packaged terms in an academic year.
The minimum loan amount you can accept is $200.
All subsidized funds must be accepted before accepting/reducing unsubsidized loans.
In order to reduce funds, you need to indicate the revised amount on your award letter or notate a full decline of a loan. Follow the instructions on your Award Letter. Please contact a Financial Aid Counselor if you have any questions about reducing your loan amounts.
What is Satisfactory Academic Progress (SAP)?
Students receiving federal or state financial aid must meet certain academic standards in order to maintain their eligibility for financial assistance.
What happens if I do not meet SAP?
A WARNING status will be assigned for your first offense (except MTF, #3 below).
If you have failed to maintain all of the conditional stipulations of your WARNING, your status will be updated to WITHDRAWN.
If you exceed MTF at anytime, your SAP status will be updated to WITHDRAWN.
Can I appeal my SAP status?
You cannot appeal a WARNING status.
You may appeal a WITHDRAWN status if there were documented extenuating circumstances.
You are only able to receive up to two approved appeals throughout your academic career at Franklin University. If you have had two appeals approved previously, the current appeal will be automatically denied.
What will my updated status be once a decision has been made?
If approved, your status will be updated to either PROBATION for one trimester or in certain circumstances an ACADEMIC PLAN for three trimesters.
If denied, your status will remain WITHDRAWN
For additional information regarding Satisfactory Academic Progress view www.franklin.edu/sap.
7.26.17
Where can I access information regarding direct deposit?
You can access your direct deposit information or other chosen method of refunds by going to refundselection.com once your account is validated. If you need another personal code, then email bizoffc@Franklin.edu or call 614.947.6355. If you have any questions regarding your set-up options you will need to contact myFranklin Card Customer Care (BankMobile) at 1.877.397.1092 between 8:00 am - 11:00 pm.
When can I expect to have access to the funds for the refund I was issued on myFranklin?
Generally, if the view of your myFranklin account indicates that a "student refund" has been issued, you can expect to receive a direct deposit the following Friday - or a refund check shortly thereafter.
How can I get a Book Voucher?
You can log into myFranklin and access myTools to check your eligibility for a book voucher. Located under the Financial Aid heading is a link to Bookstore Charge Transactions. This link will show you if you are eligible to receive a book voucher and give you tools to determine why you may not be eligible.
How do I defer my loans while currently enrolled in school?
For Direct and FFEL Loans, contact your loan servicer. If you do not know who your servicer is, you can look it up in the U.S. Department of Education's National Student Loan Data System.
If my financial situation has changed since filing the FAFSA, are there any additional funds that I can receive?
There are situations in which your file can be modified to reflect your current financial situation. You would need to complete a Special Circumstance Appeal to have a Financial Aid Counselor review your file. Situations that could be considered include loss of job (student, parent or spouse), divorce, or extremely high medical costs. If you would like to appeal, you must make an appointment with a Franklin Financial Aid Counselor to discuss the requirements and to obtain an appeal form.
Please Note...You must wait at least ten weeks after your financial circumstance changed before you can make an appointment.
Why does my award letter indicate that I am getting more grant funds than were actually posted to my account?
Franklin will award aid based on full-time enrollment, unless otherwise indicated on the Award Letter. Any change in enrollment may also change aid eligibility. Grant funds are pro-rated to your current enrollment; therefore, the amount on the award letter may differ from actual eligibility. You should always contact the Financial Aid office in order to obtain information regarding updates to your financial aid eligibility depending on enrollment status. Exception: CCA students will be awarded based on the enrollment hours listed on their Student Contract, if one is submitted. However, community college hours will only be included in the award if including them increases aid eligibility.

This feature is intended for Financial Aid questions.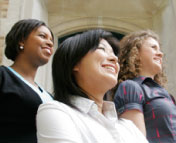 Ready to start an application?
Franklin's student-centered philosophy is one of the many reasons so many students choose us!
START YOUR APPLICATION