Education That Fits Your Life – and Your Career Goals
Accredited and student-focused, Franklin University is a great option for busy adults who want to earn an affordable degree. Built from the ground up to meet the needs of adult learners, Franklin provides relevant degree programs in online, onsite and hybrid formats so you can balance your education with other commitments.
Welcome
Introduction to Franklin University
Find out what's made Franklin University the best choice for working adults for more than 110 years.
Academic Experience
Hear what Franklin students have to say about their experience at Franklin and how the University maintains its high academic standards.
Becoming A Franklin Student (Going Back to College)
Your path to success starts at Franklin University. Get an overview of the admission process.
Ross College of Business
Earn a business degree that sets you apart from the competition. Franklin graduate Chris Rutter took the knowledge he got at Franklin and applied it right away – earning three promotions while he was on the path to his degree.
College of Health & Public Administration
Matt McCrystal found exactly what he was looking for at Franklin University. Learn how Matt's online courses and support from his professors helped him to continue moving toward his goals.
College of Arts, Sciences & Technology
Franklin graduate Jennifer Singleton earned a high-quality degree that gave her the confidence to take her career to the next level. Hear more about how her online program helped her balance her job and her education.
Earning Credit (College Transfer Credit Evaluation)
Going back to school doesn't mean starting over. Franklin provides several options for you to get credit for what you've already know. From previously earned college credit to credit for professional training and certifications, your transfer credit saves you time and money at Franklin.
Financing Your Education (Financial Aid Eligibility)
A college education is one of the best investments you can make in your career. In addition to Franklin University's generous transfer credit policy and competitive tuition rates, the University provides a variety of financial options to help make your education more affordable, including scholarships, grants, military funding programs and tuition reimbursement.
Student Experience
Franklin students benefit from the help of academic advisors to keep them motivated and on track by connecting them to a multitude of valuable resources – including testing, tutoring, personal development coaching, library services and financial aid.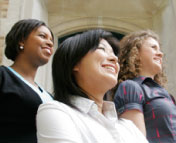 Ready to start an application?
Franklin's student-centered philosophy is one of the many reasons so many students choose us!
START YOUR APPLICATION