Franklin University Celebrated its Distinguished Alumni with the Award for Social Impact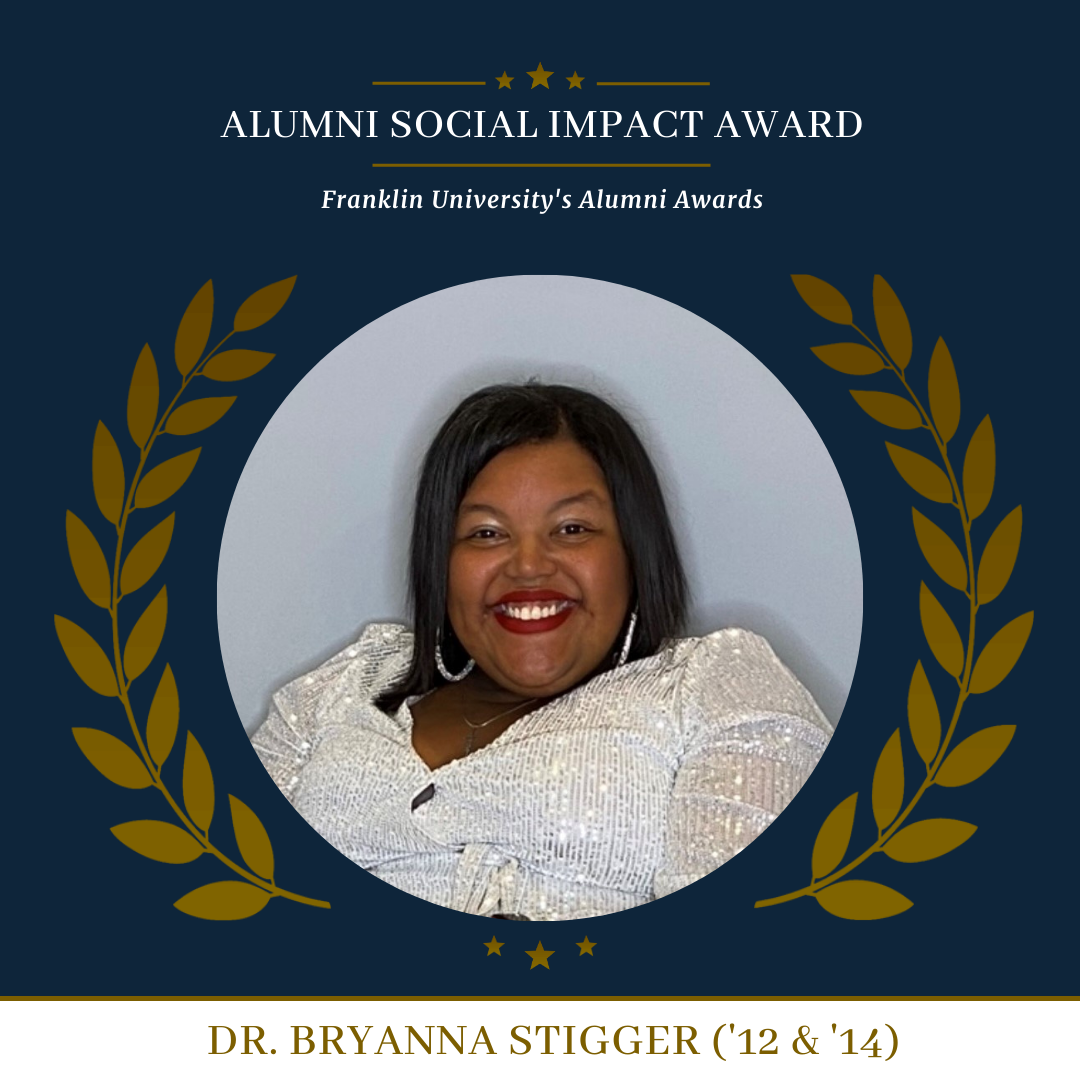 Columbus, OH (May 23, 2023)
Franklin University, one of the leading educators of working adults in central Ohio, celebrated its 173rd Commencement on Friday, May 19, 2023. Along with honoring the graduates, the University recognized Dr. Bryanna Stigger with the Alumni Award for Social Impact.
Bryanna earned her bachelor's degree through Franklin's 3+1 partnership with COTC, and ultimately completed her master's at Franklin as well. She also recently completed her doctorate at The Ohio State University. Dr. Stigger is the program manager for Inclusive Excellence in the College of Engineering at Ohio State, where she manages diversity education programs and professional development workshops to advance the diversity and inclusion mission and vision of the college. 
A long-time agent of social change, Dr. Stigger has been affiliated with several local organizations and was an active leader during her time at COTC, earning several awards that recognized her service. She was named among Newark Advocate's 20 under 40 and one of COTC's top-50 notable alumni.
Transitioning her early passion to a mission-driven career of service, Dr. Stigger is also a certified professional life coach, and CEO and founder of her own coaching and consulting business, Bry Inspired.
Bryanna reactivated the Licking County NAACP and currently serves as president. In collaboration with the Licking County Foundation, Bryanna established the first Black Indigenous People of Color (BIPOC) scholarship in Licking County.
She received the Black Excellence Award in Educational Studies and the EHE Legacy Award from the Office of Equity, Diversity and Global Engagement at Ohio State. Bryanna received the Alumni Impact Award from COTC and the college also honored Bryanna with the "Jay" Barker Community Service Alumni Award for her exemplary service and transformational impact and legacy. Most recently, the Licking County NAACP presented Bryanna with the Women of Empowerment award.
 
About the Franklin University Alumni Awards
The Franklin University Alumni Awards were created to recognize the many achievements of Franklin University alumni, both professionally and personally. The awards, open to all alumni, distinguished accomplishments in three categories: professional excellence, social impact, and alumnus of the year. 
One of the three awards will be announced at each of the University's Commencement ceremonies on a rotating basis. The Franklin University Alumni Advisory Council considers nominations and makes its recommendations to the University's president for approval.
 
About Franklin University
Accredited, nonprofit, and dedicated to educating adults since 1902, Franklin provides onsite course options at our Main Campus in downtown Columbus, Ohio, and is an innovator in providing personalized online education. The University offers applied in-demand undergraduate, masters, and doctorate programs that enable adult learners to achieve their educational and professional goals. Through agreements with partner institutions, the University also offers international academic programs, including its top-ranked MBA.
Franklin University is accredited by the Higher Learning Commission and holds specialized accreditations for specific academic programs through the International Accreditation Council for Business Education, the Commission on Collegiate Nursing Education, the Council for the Accreditation of Educator Preparation, and the Commission on Accreditation of Health Informatics and Information Management Education. The National Security Agency and the Department of Homeland Security have designated Franklin University as a National Center of Academic Excellence in Cyber Defense Education (CAE-CDE).