Class Type
100% online, 6 & 12-week courses
Next Start Date
Jun 27, 2022
About Start Dates
Additional future start dates include:
Fall 2022
Aug 15, 2022
Sep 26, 2022
Nov 7, 2022

Start dates for individual programs may vary and are subject to change. Please request free information & speak with an admission advisor for the latest program start dates.
Cost Per Credit
Tuition Guarantee
Lock-In Your Tuition Rate from Day One
The Franklin University Tuition Guarantee locks-in your first-term tuition rate for the duration of your associate, bachelor's or master's degree program, for as long as you remain actively enrolled.
Accreditation
CAHIM
Accreditation Information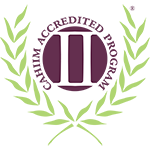 The Health Information Management accreditor of Franklin University is the Commission on Accreditation for Health Informatics and Information Management Education (CAHIIM). The College's accreditation for the bachelor's degree in Health Information Management has been reaffirmed through 2028-2029. All inquiries about the program's accreditation status should be directed by mail to CAHIIM, 200 East Randolph Street, Suite 5100, Chicago, IL, 60601; by phone at (312) 235-3255; or by email at info@cahiim.org.
Secure your future with an online health information management degree
Medical notes, insurance information and billing details. Our healthcare system depends on all types of data. When you're in the business of patient care, immediate access to accurate facts is a life-and-death proposition. Along with mandated Affordable Care Act reporting, data-driven healthcare requires more professionals who understand the systems and regulations behind the care. With a B.S. Health Information Management degree from Franklin, you'll be well prepared to help develop critical, potentially life-saving, policies and processes.
Take the next step toward your degree!
Request free program information or submit your online application.
Finish Faster
Transfer up to 94 previously earned college credits.
Real-World Practitioners
Benefit from the experience of healthcare professionals.
Professional Practice Experience
Develop a major project for a healthcare-related agency.
100% Online Classes
Earn your degree around your schedule.
In-Demand Competencies
Gain hybrid skills from healthcare management, IT and organizational leadership.
Accredited Online University
Nearly 80% of our students take online courses.