Military & Veterans
Franklin serves the educational needs of military students across the globe
Franklin University is committed to serving the needs of all military students through a variety of specialized programs. In fact, Franklin was named to the 2016 Military Friendly Schools® List and has been designated a 2016 "Military Friendly School" by GI Jobs Magazine and a "Top School" by Military Advanced Education (MAE). We greatly value your service to our country and we are honored to serve your educational needs.
Get college credit for military experience

Whether you're on active duty, reserve, a member of the National Guard, or veteran status your military experience and training may count toward college credit at Franklin University.
The Army, Marine Corps, Navy and Coast Guard use a synchronized transcript service called JST or Joint Services Transcript. Students request an official copy be sent to Franklin University for transfer credit consideration by completing the online Joint Service Transcript service. Servicemembers can also access an unofficial version of their JST any time by logging into the JST system and completing the required steps.
The JST transcript consists of:
Personal service-member data
Military course completions with descriptions
Military experience & training (per each MOS)
College-level test scores (CLEP & DANTES)
Other learning experiences
Summary page (with Servicemembers Opportunity Colleges (SOC) transferability codes)
Academic institution courses page
ACE provides quality assurance and policy guidance to the Army, Navy, Coast Guard and Marine Corps for military transcripts
The Air Force is still testing the JST process. Students with Air Force service training and experiences will continue to order their military transcripts through the Community College of the Air Force (CCAF) .
Find out how your credits will transfer by requesting a free unofficial evaluation. Or, if you're ready, apply online* now (it's free!) to receive your official evaluation.
Serve while you learn with our online programs
Earning your degree while serving your country is an ambitious task. Whether you're serving 10 miles away or across the globe, Franklin is committed to offering you the flexible, convenient course formats you need to balance your education with the demands of military life.
Franklin University has the on-campus and online degree programs that work for you. Complete your free online application* today and we'll help you choose the format and program that best meets your needs.
***ATTENTION APPLICANTS SERVING IN THE U.S. ARMY (ACTIVE DUTY, NATIONAL GUARD, OR RESERVES)***

All undergraduate and graduate applicants intending to use Federal Tuition Assistance (FTA) through the GoArmyEd portal must submit the common application through GoArmyEd, as well as the Franklin University student admission application. If you are unsure of the benefits available to you through GoArmyEd, please contact Franklin University at admissions@franklin.edu.
Take the next step and learn more details:
Air Force

Army

Coast Guard

Marines

Navy

Spouses & Dependents

Veterans
Paying for your education
There are a number of ways military and veteran students can save on their education. Benefits, scholarships, and transferring credits for previous training can all help reduce the cost of an education. Click on the links below to learn more about these helpful programs.
Military Educational Benefits
Helpful Resources
There are numerous organizations and programs in the community to support you in the many facets of your life. From student organizations at Franklin to national government programs, there is a vast spectrum of resources available to you as a military servicemember, veteran or military family member. Let us help connect you! Visit our Community Resources page for more information.

View our list of helpful military
and veteran resources

Stay up-to-date on the latest information from the Office of Military and Veteran Affairs by subscribing to our OMVA Blog!
Affiliations
In support of our military students, Franklin University is affiliated with the following military organizations and federal initiatives. We are committed to staying relevant with developments in the military community and gaining knowledge to continually improve how we support students in meeting their educational goals.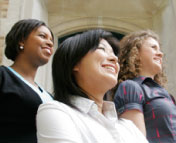 Ready to start an application?
Franklin's student-centered philosophy is one of the many reasons so many students choose us!
START YOUR APPLICATION