Franklin University Announces New Educator Preparation Programs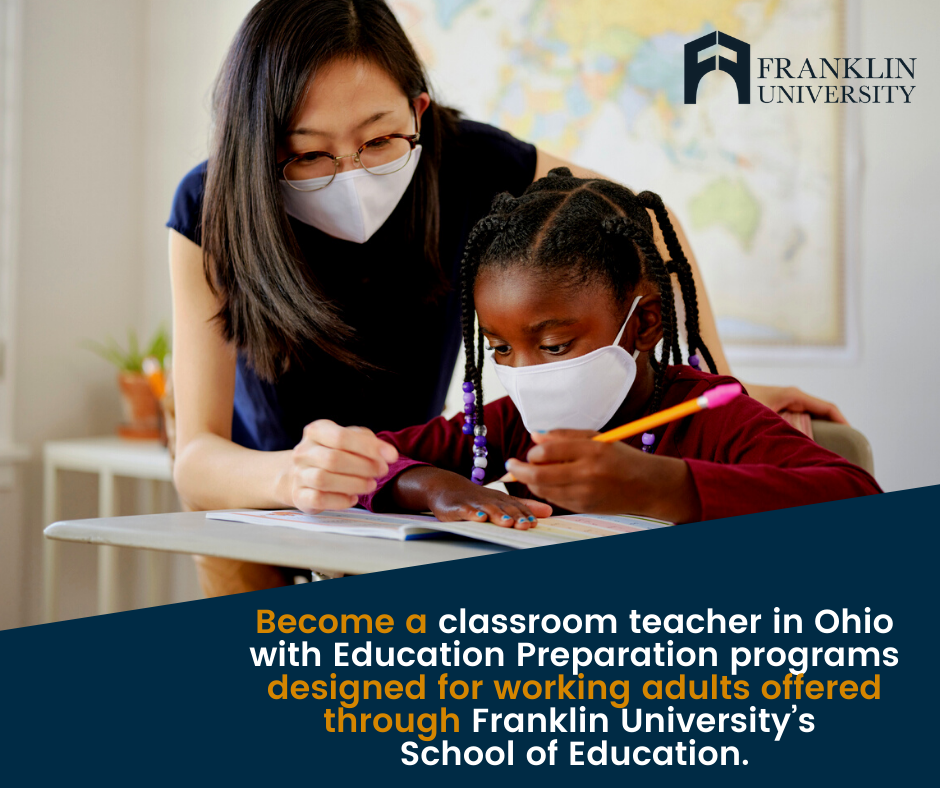 Columbus, OH (November 5, 2020)
Franklin University, a leading educator of working adults, is pleased to announce its new Educator Preparation programs to the School of Education offerings, beginning in Spring 2020.
The addition of the Educator Preparation programs helps keep those with dreams of becoming a teacher in Ohio moving toward their goal by taking advantage of Franklin's transfer-friendly programs. The new offerings provide students with the opportunity to maximize their associate degree by enrolling in major area courses and working on-site in a school in the first term of enrollment. Pairing clinical field placement with online coursework, sharpened through decades of providing online learning, helps students make the most of their time. Helping manage costs, Franklin's low per credit hour cost, and free books minimize the cost of the degree.
Participation in clinical field placements provide students with the opportunity to work in different school environments to diversify their experiences and build their professional network. Through clinical field placements and student teaching experiences, students also benefit from partnerships between Franklin's School of Education and more than 90 partner school districts that serve Ohio's rural areas and suburbs, cities, and towns. 
Franklin's Educator Preparation programs help students set the foundation for successful teaching careers in Ohio, by focusing coursework to align with specific licensure. Licensure areas include Adolescent to Young Adult (Grades 7-12), Intervention Specialist: Mild-Moderate (K-12), Middle Childhood Education (Grades 4-9), or Primary Education (PK-5). 
The Educator Preparation programs guide students through coursework while also preparing them for the assessments required to qualify for an Ohio Resident Educator License. Primary, Middle Childhood, and Intervention Specialist students take a series of courses specifically designed to set them up for success on the OAE Foundations of Reading assessments. Students must pass the Ohio Assessment for Educators (OAE) content assessments before student teaching. Students are encouraged to take the OAE pedagogy test during the student teaching experience to ensure they are living the pedagogical experience. 
Adding to the benefits of the Franklin Educator Preparation programs, upon enrollment, students will be issued a free Taskstream account to keep them on track as they work to complete the requirements for their degree and intended licensure. 
Learn more: https://www.franklin.edu/degrees/degrees-college/school-education
Registration for the Spring 2021 term is now open.  See how easy it is to get started: https://www.franklin.edu/admissions
About Franklin University
Accredited, nonprofit and dedicated to educating adults since 1902, Franklin provides on-site course options at our Main Campus in downtown Columbus, Ohio, and is an innovator in providing personalized online education. The University offers applied in-demand undergraduate, master's and doctorate programs that enable adult learners to achieve their educational and professional goals. The University also offers several academic programs internationally, including its top-ranked MBA, through agreements with partner institutions.
Franklin University is accredited by The Higher Learning Commission and holds specialized accreditations for specific academic programs through the International Accreditation Council for Business Education, the Commission on Collegiate Nursing Education and the Commission on Accreditation of Health Informatics and Information Management Education. Franklin is only one of three schools in Ohio designated as a National Center of Academic Excellence in Cyber Defense Education (CAE-CDE) by the National Security Agency and the Department of Homeland Security.