Franklin University establishes new partnership with Collin College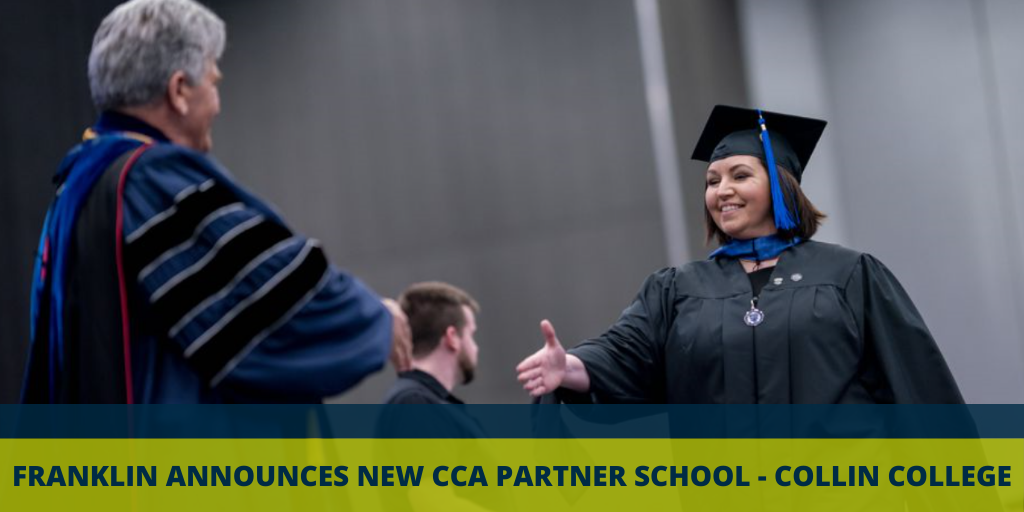 Columbus, OH (October 16, 2020)
Ohio's #1 nonprofit university for online degrees, Franklin University, has announced its newest partnership with Collin College, highlighting their shared commitment to making college more accessible and affordable. Through today's announcement, students at Collin College, which has nine locations throughout its Collin County service area, now have the additional opportunity to build on their achievements, by maximizing their associate degree credit toward earning a bachelor's degree, while staying in their own community.
"Online education is a growing part of our students' lives, and Collin College is pleased to extend the opportunity to continue their educational experience through this partnership with Franklin University," said Collin College District, President, Dr. Neil Matkin. "Franklin's established and affordable programs will make an excellent fit for many students."
For more than 115 years, Franklin University has built a reputation as a pioneer in educating adult learners and removing barriers to higher education for ambitious adults. Through Franklin's Community College Alliance (CCA), students can build upon the credits they earn at their community college by transferring credit seamlessly to Franklin. This convenient 3+1 program saves students time and money by maximizing community college credits.
"A college degree has become a necessity for individual economic opportunity and America's competitiveness in the global economy," shared Dr. David Decker, President, Franklin University. "Through our new partnership, students at Collin College can combine our recent 24% reduction in undergraduate tuition, tuition guarantee, and generous transfer policy to bring a degree within reach to achieve their education and career goals."
 For information on how students can maximize Collin College credits to cut the total cost of a bachelor's degree in half by choosing Franklin - a private, nonprofit and regionally accredited institution, click here: link www.franklin.edu/cca
For additional transfer information, please email Shirley Hayes, Franklin's community college regional manager at Shirley.hayes@franklin.edu.
About Collin College
Collin College serves more than 58,000 credit and continuing education students annually and offers more than 100 degrees and certificates, including new Bachelor of Science in Nursing (BSN) and Bachelor of Applied Technology (BAT) in Cybersecurity degrees. The only public college based in Collin County, Collin College is a partner to business, government and industry, providing customized training and workforce development.
Collin College is accredited by the Southern Association of Colleges and Schools Commission on Colleges to award baccalaureate degrees, associate degrees and certificates.
About Franklin University
Accredited, nonprofit and dedicated to educating adults since 1902, Franklin provides on-site course options at our Main Campus in downtown Columbus, Ohio, and is an innovator in providing personalized online education. The University offers applied in-demand undergraduate, master's and doctorate programs that enable adult learners to achieve their educational and professional goals. The University also offers several academic programs internationally, including its top-ranked MBA, through agreements with partner institutions.
Franklin University is accredited by The Higher Learning Commission and holds specialized accreditations for specific academic programs through the International Accreditation Council for Business Education, the Commission on Collegiate Nursing Education and the Commission on Accreditation of Health Informatics and Information Management Education. Franklin is only one of three schools in Ohio designated as a National Center of Academic Excellence in Cyber Defense Education (CAE-CDE) by the National Security Agency and the Department of Homeland Security.