Franklin University Receives Campus Prevention Network Seal of Prevention for Exceptional Commitment to Digital Student Wellness, Safety, and Inclusion Efforts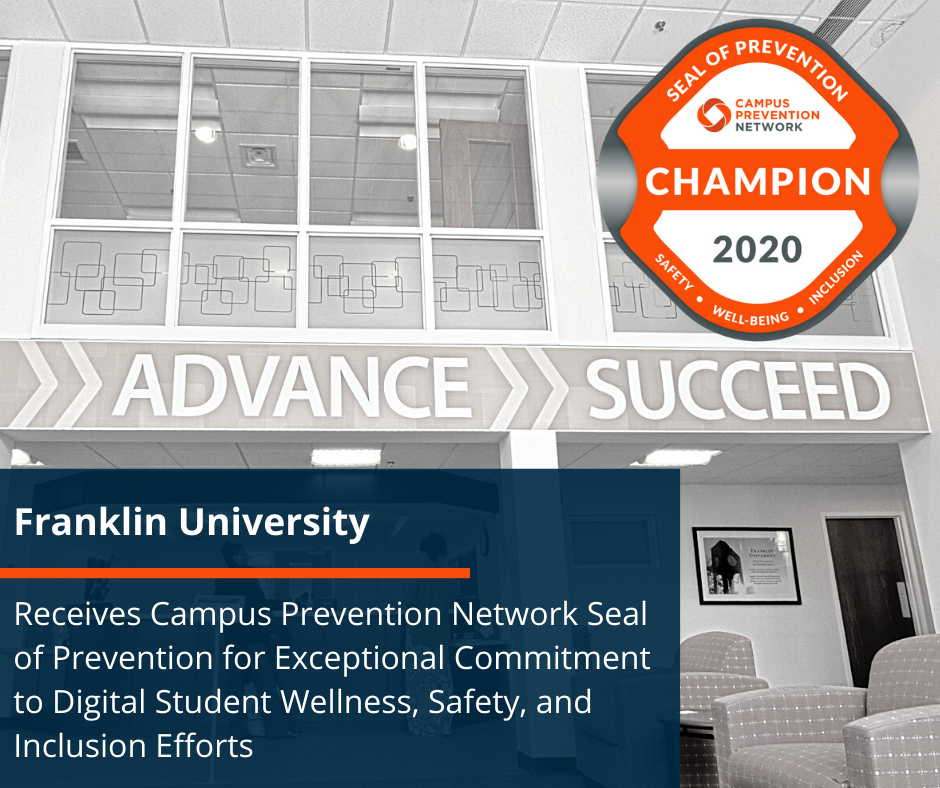 Columbus, OH (October 16, 2020)
Franklin University, a long-standing supporter of student success, has been named a recipient of the Campus Prevention Network (CPN) Seal of Prevention. Presented by EVERFI and Parchment, the CPN Seal of Prevention is awarded to institutions of higher education that have demonstrated a commitment to digital prevention programs tied to student safety, well-being, and inclusion.
Franklin continues to make its students a top-priority, by expanding their support efforts of creating and maintaining an atmosphere that is conducive to learning and personal growth and respectful of the rights of others, as stated in its Title IX and policies and procedures. As a recipient of the CPN Seal of Prevention, Franklin has taken action to be a more inclusive campus through comprehensive, evidence-based digital prevention education on issues such as sexual assault, alcohol misuse, mental health, and discrimination. The CPN Seal of Prevention establishes guidelines for discerning quality online prevention education and implementation practices, and positions prevention as central to key institutional outcomes, including: recruitment, student success, retention, and advancement.
"We are excited to name Franklin University in the first-ever class of recipients of the CPN Seal of Prevention," said Rob Buelow, senior vice president, Higher Education and Impact, EVERFI. "Franklin University has done an exceptional job putting student values first and providing proactive digital prevention education that enables student success, inside and outside the classroom." 
The criteria for the CPN Seal of Prevention are based on the Principles of Effective Prevention Programs published by Nation, et al. (2003). A full list of the 2020 recipients of the CPN Seal of Prevention and more information on the awards can be found at https://everfi.com/higher-education/campus-prevention-network-awards.
"Upholding the rights of all members of the Franklin University community is imperative to creating a safe environment for learning," shared Dr. Blake Renner, Dean of Students, Franklin University. "For this reason, the University is committed to creating an environment that is free of discrimination and harassment towards any student, faculty, staff member, or visiting guest. I am proud of the efforts of our campus community to achieve this award and we will remain committed to be an inclusive campus for all learners."
About EVERFI, Inc.
EVERFI is an international technology company driving social change through education to address the most challenging issues affecting society ranging from financial wellness to prescription drug safety to workplace conduct and other critical topics. Founded in 2008, EVERFI is fueled by its Software-as-a-Service (SaaS) community engagement platform and has reached more than 41 million learners globally. Recognized as one of the World's Most Innovative Companies by Fast Company in 2020, EVERFI powers community engagement in a sustained manner to empower individuals and organizations to make an impact within their communities. Some of America's leading CEOs and venture capital firms are EVERFI investors including Amazon founder and CEO Jeff Bezos, Google Chairman Eric Schmidt, Twitter founder Evan Williams, as well as Advance, Rethink Education, Rethink Impact, The Rise Fund, and TPG Growth. 
About Franklin University
Accredited, nonprofit and dedicated to educating adults since 1902, Franklin provides on-site course options at our Main Campus in downtown Columbus, Ohio, and is an innovator in providing personalized online education. The University offers applied in-demand undergraduate, master's and doctorate programs that enable adult learners to achieve their educational and professional goals. The University also offers several academic programs internationally, including its top-ranked MBA, through agreements with partner institutions.
Franklin University is accredited by The Higher Learning Commission and holds specialized accreditations for specific academic programs through the International Accreditation Council for Business Education, the Commission on Collegiate Nursing Education and the Commission on Accreditation of Health Informatics and Information Management Education. Franklin is only one of three schools in Ohio designated as a National Center of Academic Excellence in Cyber Defense Education (CAE-CDE) by the National Security Agency and the Department of Homeland Security.