Franklin University Receives Prestigious CAEP Accreditation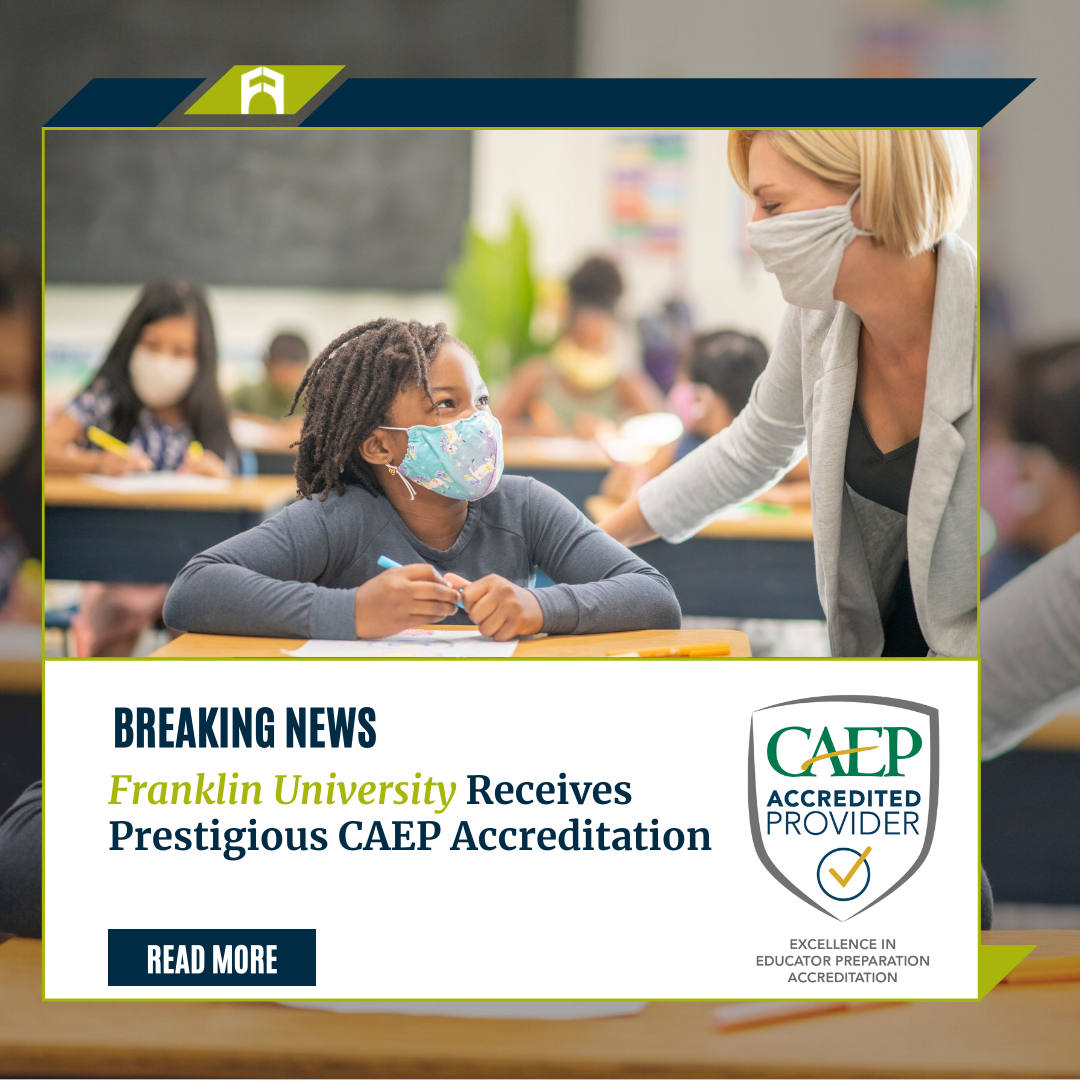 Columbus, OH (December 13, 2021)
The Council for the Accreditation of Educator Preparation (CAEP) has announced that Franklin University's School of Education has received accreditation for its educator preparation programs. The Fall 2021 review by the CAEP Accreditation Council resulted in 39 newly-accredited EPPs, bringing the total to 462 providers approved under the CAEP Accreditation Standards – rigorous, nationally recognized standards that were developed to ensure excellence in educator preparation programs. 
"These institutions meet high standards so that their students receive an education that prepares them to succeed in a diverse range of classrooms after they graduate," said CAEP President Dr. Christopher A. Koch. "Seeking CAEP Accreditation is a significant commitment on the part of an educator preparation provider." 
The CAEP Board of Directors updated the educator preparation standards in 2020 as part of its commitment to reviewing the standards at least every seven years. The changes to the CAEP standards reflect the Board's commitment to equity and diversity and emphasize the importance of technology in preparing future educators. 

CAEP is recognized by the Council for Higher Education Accreditation. Accreditation is a nongovernmental activity based on peer review that serves the dual functions of assuring quality and promoting improvement. CAEP was created by the consolidation of the National Council for Accreditation of Teacher Education and the Teacher Education Accreditation Council. It is a unified accreditation system intent on raising the performance of all institutions focused on educator preparation. Approximately 700 educator preparation providers participate in the CAEP Accreditation system, including some previously accredited through former standards. Educator preparation providers seeking accreditation must pass peer review of the CAEP standards based on two principles: 1. Solid evidence that the provider's graduates are competent and caring educators, and 2. Substantial evidence that the provider's educator staff can create a culture of evidence and use it to maintain and enhance the quality of the professional programs they offer. 
Aligned with Franklin's tradition of making a career change and advancement possible for busy adults, our School of Education provides 100% online coursework to complement licensure's in-field teaching experience requirement. Students are taught and mentored by experts in teaching and learning, along with teachers at partner schools who have significant experience in the field and demonstrate excellence in teaching practices.
Franklin University's School of Education offers CAEP accredited teacher preparation programs including bachelor's degrees in Adolescence to Young Adult Education (7-12), Intervention Specialist: Mild-Moderate (K-12), Middle Childhood Education, and Primary Education (PK-5). Post-Baccalaureate programs are available in Adolescence to Young Adult Education (7-12), Intervention Specialist: Mild/Moderate (K-12), Middle Childhood Education (4-9), and Primary Education (PK-5). The School of education also includes a comprehensive offering of graduate programs including the M.S, Instructional Design and Learning  Technology, Graduate Certificate in Instructional Design, Doctor of Professional Studies - Instructional Design Leadership, and Doctor of Education - Organizational Leadership (Ed.D.)
"The impact of teacher preparation cannot be overstated when considering its effect on student learning," said Dr. Patrick Bennett, Vice President, Academic Quality & Planning and Dean, School of Education. "It is with this impact in mind that we have set a very high bar for our teacher prep program, which is now validated through CAEP Accreditation." 
The Council for the Accreditation of Educator Preparation advances excellence in educator preparation through evidence-based accreditation that assures quality and supports continuous improvement to strengthen P-12 student learning.
About Franklin University
Accredited, nonprofit, and dedicated to educating adults since 1902, Franklin provides onsite course options at our Main Campus in downtown Columbus, Ohio, and is an innovator in providing personalized online education. The University offers applied in-demand undergraduate, masters, and doctorate programs that enable adult learners to achieve their educational and professional goals. Through agreements with partner institutions, the University also offers international academic programs, including its top-ranked MBA.
Franklin University is accredited by the Higher Learning Commission and holds specialized accreditations for specific academic programs through the International Accreditation Council for Business Education, the Commission on Collegiate Nursing Education, the Council for the Accreditation of Educator Preparation, and the Commission on Accreditation of Health Informatics and Information Management Education. The National Security Agency and the Department of Homeland Security have designated Franklin University as a National Center of Academic Excellence in Cyber Defense Education (CAE-CDE).