Franklin University Awarded Homeland Security Grant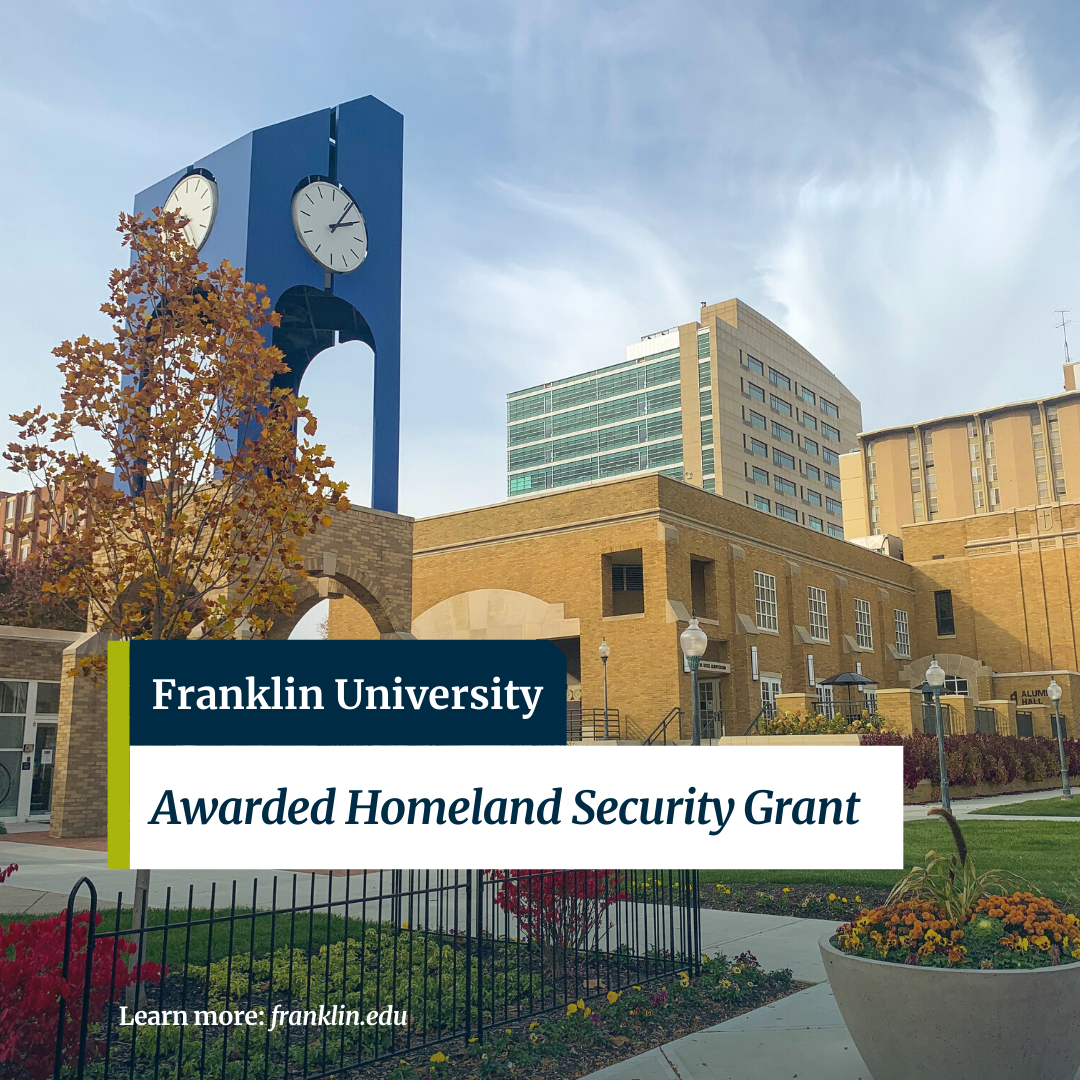 Columbus, OH (October 5, 2022)
Franklin University, one of the leading educators of working adults, is pleased to announce that it has been named a 2022 Nonprofit Security Grant Program (NSGP) grant recipient. Funding provided through the grant will help support security enhancements to continue the University's commitment to providing a safe and secure learning and working environment. 
Grants provided through the NSGP are awarded to nonprofit organizations and houses of worship to support projects to prevent, protect against, prepare for, and respond to terrorist acts. The grant is part of a comprehensive set of measures authorized by Congress and implemented by the Department of Homeland Security (DHS) to help strengthen the nation's communities against potential terrorist attacks. Among the five essential homeland security missions noted in the DHS Strategic Plan, NSGP supports the goal of strengthening national preparedness and resilience. Eligible organizations can receive up to $150,000 to support allowed projects.
Following the fundamental principle of emergency management that preparation and prevention activities be informed by a continuous cycle of threat and risk assessment, Franklin University employs a model of emergency management as prescribed by the National Incident Management System (NIMS) and the National Preparedness Goal. In April of 2022, Franklin University partnered with the Cybersecurity Infrastructure Security Agency (CISA), a division of the DHS, to complete a campus Threat and Hazard Identification and Risk Assessment (THIRA). Assessments are completed every three to five years to identify the likelihood and impact of natural, human-caused, and technological hazards. Using the April assessment, the University identified existing areas of excellence and new opportunities for enhancement and applied for the 2022 NSGP.
"Threats to schools, workplaces, and public venues require vigilance and prioritizing investments in security," shared Brandon Perry, Assistant Director for Emergency Operations, Franklin University. "Through continual assessment, coordination with community stakeholders, and grants such as the NSGP, we have the opportunity to mitigate the risk to our campus community."

Notice of an award to Franklin University was made in September. The three-year performance period for the grant begins on October 1, 2022, during which time Franklin will be completing its campus-wide security enhancement projects. 
About Franklin University
Accredited, nonprofit, and dedicated to educating adults since 1902, Franklin provides onsite course options at our Main Campus in downtown Columbus, Ohio, and is an innovator in providing personalized online education. The University offers applied in-demand undergraduate, masters, and doctorate programs that enable adult learners to achieve their educational and professional goals. Through agreements with partner institutions, the University also offers international academic programs, including its top-ranked MBA.
Franklin University is accredited by the Higher Learning Commission and holds specialized accreditations for specific academic programs through the International Accreditation Council for Business Education, the Commission on Collegiate Nursing Education, the Council for the Accreditation of Educator Preparation, and the Commission on Accreditation of Health Informatics and Information Management Education. The National Security Agency and the Department of Homeland Security have designated Franklin University as a National Center of Academic Excellence in Cyber Defense Education (CAE-CDE).