Franklin Global
Global Programs at Franklin University
International Academic Program Offerings
Universities large and small have felt the growing influence of a world market. Franklin University's Global Academic Programs are redefining the term "global" in terms of educational access, academic quality, and global sustainability.
Franklin University is committed to serving the needs of international students from all walks of life – in on-campus environments and in online classrooms all around the world.
Promoting Academic Quality Internationally
As part of the University's commitment to higher education quality, Franklin University is a proud affiliate of The Council for Higher Education Accreditation/International Quality Group (CHEA CIQG). With a shared understanding of educational quality, Franklin works as part of this worldwide organization to engage accrediting organizations, education providers and governments to promote fundamental principles that ensure effective higher education to learners around the world.
International Student Learning Opportunities
Franklin University international students pursue bachelor's degrees, master's degrees, doctoral degrees, and professional development opportunities in a variety of settings:
To learn more about our Global Partner schools, our Office of International Students and Programs (OISP), or taking classes online through Franklin University, contact us today!
Advancing Learning Across the Globe
Franklin University understands what it takes to succeed in today's constantly evolving global market. We work with global partners to collaboratively identify obstacles, uncover opportunities and develop
focused learning solutions to achieve organizational success.
Click the image on the right to download our brochure and learn more
about our global partnerships.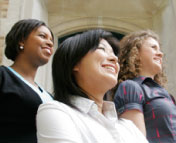 Ready to start an application?
Franklin's student-centered philosophy is one of the many reasons so many students choose us!
START YOUR APPLICATION