Washington Court House, Ohio
Franklin University in Washington Court House, Ohio
Franklin University in Washington Court House, Ohio
1270 US Rt 62 SW
Washington Court House
,
Ohio
43160
Phone:
614.947.6079
Franklin University is located at 1270 US Rt 62 SW Washington Court House, Ohio 43160
Program offered at Southern State Community College (Fayette Campus):
Criminal Justice Administration
Operational Hours:
By appointment
* Evening classes onsite: 6:00pm - 9:40pm
Hours may vary, please contact Community College Regional Manager for appointments.
Contact:

David Kerr, M.A.
Community College Regional Manager
transferinfo@franklin.edu
Anthony Schreiter
Academic Advisor
advising@franklin.edu
Want to take classes at this location?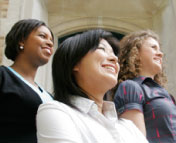 Ready to start an application?
Franklin's student-centered philosophy is one of the many reasons so many students choose us!
START YOUR APPLICATION