Crime Alerts
To promote risk awareness, this page is designed to alert the Franklin University community about new crimes or suspicious behaviors occurring on or near any of our locations.
On 1-21-15 at approximately 2:50pm on the public sidewalk in front of 270 S. Grant Ave. it was reported an Armed Robbery and Felonious Assault was committed by an unknown black male. No other physical or clothing description could be provided by the victim. This incident was only reported to Franklin University Safety and Security Services on 1-22-15.
Staff and students are reminded to always be aware of their surroundings and avoid suspicious persons or activities. Staff and students should report any information they have regarding this incident or any future suspicious activity they observe to the Department of Safety and Security Services at 614-947-6902 or the local police department having jurisdiction at the particular Franklin location.
If you witness any suspicious person(s) or vehicles in or around Franklin University please contact the Special Duty Officer at (614) 947-6902. In a life threatening emergency dial "911."
If you have information related to any posted alerts, please contact Safety & Security Services at 614.947.6900.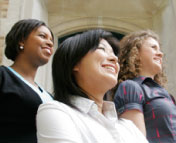 Ready to start an application?
Franklin's student-centered philosophy is one of the many reasons so many students choose us!
START YOUR APPLICATION