Franklin is a Nonprofit University Focused on Students
Investing in minds, not profits
Franklin University is a private, nonprofit institution of higher education investing solely in student success. This is reflected in our mission and the Four Cornerstones of our educational philosophy, which guide our decisions and overall strategic direction.
What is the difference between for-profit and nonprofit education?
For-profit educational institutions, also known as proprietary schools, are organized as profit-making business enterprises with shareholders who have ownership in the company. The schools ultimately serve shareholders by earning profits and growing the stock value.
Nonprofit colleges and universities are driven by what best serves students. At Franklin University, we focus on creating an enriching, rewarding learning experience that enables students from all walks of life to finish their degrees and achieve success in their professional careers.
Why does nonprofit status matter to our students?
Without the need to please shareholders, Franklin University is free to invest in the future of our students. By operating as an independent institution, we can embrace change and advance the scope and quality of the education we offer to students near and far.
Not for profit online colleges are able to maintain competitive tuition rates, making it possible for our students to have access to an education that fits their budgets, as well as their ambitions.
Who are the industry leaders who help Franklin advance and succeed?
As volunteer board members, Franklin's Board of Trustees is comprised of esteemed business and community leaders who take great pride in being associated with the University. In fact, many of them are distinguished alumni. By providing insight they have gained through their professional achievements, our Board of Trustees helps oversee the University's continued growth and progress.
Additionally, the University draws on the knowledge provided by Advisory Boards. Also comprised of respected industry leaders who volunteer their time and expertise, Franklin's Advisory boards provide ongoing feedback regarding the relevance and applicability of our academic coursework in the global marketplace.
As a nonprofit university, examples of investing in the future of our students are:
By investing in a positive work environment and a competitive benefits package, we ensure that the Franklin learning experience is enhanced because those facilitating it know their expertise is needed, respected, and valued.
By investing in the analysis of economic shifts, we are able to adroitly respond to change by fortifying our academic programs. Doing so assures our students they will acquire knowledge that is relevant, meaningful, and immediately applicable. Learn more about our degree programs...
By investing resources in our Community College Alliance, we are able to help community college students maximize their transfer credits to Franklin University, making it possible for them to save time and money toward the completion of their Franklin bachelor's degrees. Learn more about our relationships with community colleges...
By investing in the dissemination of our academic programs in locations around the world, we not only create more opportunity for students in those countries, we also incorporate insight from diverse cultures into Franklin's coursework – so that the knowledge all our students gain has added veracity and value in the global marketplace. Learn more about our global partnerships...
By investing in fundraising activities and knowledge-sharing initiatives, Franklin demonstrates to our students that, along with contributing to the workforce as an educational provider, Franklin also acts as a good citizen in the communities in which our students live and work.
By investing in knowledgeable academic advisors and advancements in technology, we ensure that our busy adult learners can receive responsive and helpful guidance, as well as have access to comprehensive and useful learning tools. Learn more about our student services and resources...
By investing in the training and development of coaches who work with our students and alumni, as well as investing in the successful operation of our Center for Career Development, we enable our students to realize their full educational and career potential. Learn more about our career coaching services.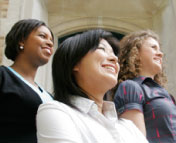 Ready to start an application?
Franklin's student-centered philosophy is one of the many reasons so many students choose us!
START YOUR APPLICATION