Military Educational Benefits
Ohio National Guard Scholarship Program (ONGSP)
Subject to funding available from the Ohio General Assembly, the Ohio National Guard Scholarship Program provides tuition up to $4,710.00 ($393.00 per credit hour) per trimester to Army and Air National Guard members attending a two- or four-year public or private college or university. The scholarship is available for up to eight full-time trimesters. Scholarship program recipients must maintain good attendance at their unit drills.
Step 1: Obtain and submit application
For each trimester you plan to attend, you must be actively enrolled in a minimum of three (3) credit hours at the time of disbursement to be eligible for benefits. Obtain your application form and submit to the Adjutant General's Department by the following deadlines:
Summer: April 1 Fall: July 1 *Winter: November 1
*Spring quarter approval, as posted on the ONG approval letter, falls within our Winter term course offerings
Step 2: Notify Franklin of your approval
If selected, you will receive an approval letter. Please provide a copy of your ONGSP approval letter to:
Franklin University
Office of Military and Veteran Affairs
201 S. Grant Ave.
Columbus, OH 43215
omva@franklin.edu
fax: 614.255.9514 or 1.800.549.1904
Questions? Contact the ONGSP by phone at 614.336.7032, toll free 1.888.400.6484.
Step 3: Certifications
The Office of Military and Veteran Affairs will certify National Guard Scholarships approximately the 5th week of each semester, based on current hours of enrollment.
Attending more than one school using ONGSP?
If you plan to use ONGSP at two different schools, you must apply for the ONGSP scholarship at both institutions, and be actively enrolled in a minimum of three (3) credit hours at each school at the time of disbursement in order to be eligible for ONGS benefits.
IMPORTANT NOTES:
Per instructions from the Ohio Department of Higher Education, OCOG payments should not be applied if you are receiving ONGSP that covers 100% of your tuition. Therefore you are only eligible if your tuition charges exceed the amount ONGSP is paying.
The combination of the Post 9/11 and ONGSP must not exceed 100% of the tuition.
ONGSP will be applied to tuition first and then Post 9/11 GI Bill will be applied if there is a remaining balance.

For students that use Federal Tuition Assistance (FTA), please note that you cannot apply for Ohio National Guard Scholarship (ONGS) and then also request FTA funding for the same class(es). The current hierarchy of benefits is that ONGS is applied to tuition before FTA. Please see your Academic Advisor for more details.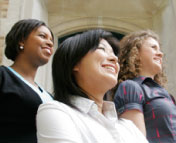 Ready to start an application?
Franklin's student-centered philosophy is one of the many reasons so many students choose us!
START YOUR APPLICATION