Military Educational Benefits
Veteran Payment Policies
It usually takes 90 days after the start of classes for your first monthly check to arrive. The funds will be sent directly to your home address, with the exception of Post 911 GI Bill (Chapter 33) and Vocational Rehabilitation and Employment VetSuccess Program (Chapter 31) students. After the initial claim is processed, a check will be sent at the end of each month for as long as the student remains eligible.
It is possible to request advance payment if the veteran and/or reservist is just beginning a college education or has not taken any classes for 30 days. Advance payment checks are sent directly to Franklin University's Business Office. To be eligible, students must:
Be enrolled at least half time
Request advance payment by contacting the Office of Military and Veteran Affairs 60 days before the first day of the trimester so that forms are received by the VA regional office at least 45 days before the first day of the trimester. In addition, be sure to note your request for advance payment on your Plan of Attendance (POA).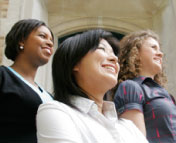 Ready to start an application?
Franklin's student-centered philosophy is one of the many reasons so many students choose us!
START YOUR APPLICATION