Applying for Financial Aid
Applying for Financial Aid
Applying for Financial Aid at Franklin is easy
Follow our three step Financial Aid application process:
STEP 2:
Complete the FAFSA

(Free Application for Federal Student Aid)


File the 2017-18 FAFSA by the

Priority Processing Deadlines

Summer 2017 - March 15, 2017

Fall 2017 - June 15, 2017

Winter 2018 - October 1, 2017

Federal Student Aid assistance can be found on social media channels. Please visit StudentAid.gov, or visit them on Facebook, Twitter, or YouTube.
Important Notes
Franklin's school code is 003046
See Deadlines section below for Franklin's priority filing deadlines
Franklin will award aid based on full-time enrollment, unless otherwise indicated on the Award Letter.
Any change in enrollment may also change aid eligibility.
The last day to file a FAFSA for aid at Franklin for 2017-18 is April 20, 2018
STEP 3:

Complete a Declaration of Outside Tuition Assistance Form

Complete this form if you will be receiving tuition payment or reimbursement from any source other than financial aid. Failure to disclose the information prior to us determining your aid eligibility may result in a possible delays or even a partial/full loss of your financial aid funds.

You may access the appropriate year Declaration of Outside Tuition Assistance form on our Financial Aid Forms page. Some typical outside tuition aid sources may include:
Your employer
Bureau of Vocational Rehabilitation (BVR)
National Guard
Ohio Tuition Trust Authority (prepaid tuition plan)
Scholarships (expected or received – not from Franklin)
Other sources that do not include grants or loans
5.23.17
Undergraduate Student Enrollment Status:
| | |
| --- | --- |
| Full-time | 12 or more credit hours |
| Three-fourths time | 9-11 credit hours |
| Half-time | 6-8 credit hours |
| Less than half-time | 1-5 credit hours |
Graduate Student Enrollment Status:
| | |
| --- | --- |
| Full-time | 6 or more credit hours |
| Half-time | 3-5 credit hours |
| Less than half-time | 1-2 credit hours |
Consortium agreements/Student Contracts are written agreements between two or more institutions enabling students to take coursework simultaneously at different institutions for the purpose of completing a degree. Under such an agreement, students can take courses at their community college, the "host school," and have those courses count toward a first bachelor's degree at Franklin University, the "home school."
The home school is the school that will grant the degree, as well as process, award, and disburse financial aid. The host school will be responsible for certifying student enrollment status and providing student information, such as costs for tuition and fees, grades, and withdrawal information.
The Consortium Agreement consists of two parts:
Blanket Consortium Agreement (school)
The Blanket Consortium Agreement is an agreement between the host and home school. The host school completes the blanket agreement and submits it to Franklin University's Financial Aid Office.

Student Contract (student)
If you plan to attend your community college for any term within the award year and would like Franklin to consider hours at your community college in your financial aid award, you must submit a Student Contract. If you anticipate attending Franklin University only, submission of this document is not required.
The Student Contract is available on our Financial Aid Forms page. Select the appropriate year, scroll down to the section titled Community College Alliance Students Only. Print out and follow the instructions on the Student Contract.
Official Transcripts (student)

At the conclusion of each trimester of enrollment, students must request that official transcripts* be sent to Franklin University's Transfer Credit Office for use in determining completion of courses and satisfactory academic progress. Failure to submit official transcripts may cause a reduction or cancelation of aid for the term in which grades were not submitted, and will prohibit aid from being processed for subsequent terms.

* An official transcript is one that has been received directly from each college or university listed on your application. It must bear the college seal, date, and an appropriate signature. Transcripts received that do not meet these requirements should not be considered official and are routinely rejected for any permanent use.
If you're transferring to Franklin University from another school in the middle of an aid year and you received Federal or State Aid at your previous school, please make sure you do the following:
Cancel aid at your previous school, including future scheduled loan disbursements.
Add Franklin University (school code: 003046) to your Student Aid Report (SAR) by:
1. updating your FAFSA; or
2. calling the Federal Processor at 1.800.433.3242
Remove previous school's code from the FAFSA
The financial aid application process must be completed each award year. Applications are available October 1 each year for the next award year, beginning Summer Trimester and ending Winter Trimester.
File the appropriate year FAFSA and submit other financial aid forms by the following Priority Processing Deadlines for maximum aid eligibility:
File the 2017-18 FAFSA by the
Priority Processing Deadlines
Summer 2017 - March 15, 2017
Fall 2017 - June 15, 2017
Winter 2018 - October 1, 2017
By meeting the priority processing deadline, your application will be considered for campus-based aid. However, with classes starting every three weeks, you can complete your FAFSA at any time during the current enrollment trimester.
Within two weeks of completing a FAFSA, the Department of Education's Central Processor will send an email notifying you that your Student Aid Report (SAR) is available for review on the FAFSA website.
Review your SAR for accuracy, using your FSA ID (username and password). Carefully correct anything that may have been misreported and submit your corrections. Note: Dependent students must also have the parent electronically sign the SAR using their FSA ID before submitting corrections. Contact FAFSA customer service at 1.800.433.3243 if you do not receive a SAR notification within two weeks of completing your FAFSA.
In general, to be eligible for financial aid at Franklin University, you must:
Complete the appropriate year FAFSA.
Have a high school diploma or an associate or higher degree. Proof includes

High school transcript, GED, or equivalent; or,
College/university transcript showing associate or higher degree

Be enrolled or accepted for enrollment as a regular student working toward a degree or certificate in an eligible program.
Be enrolled at least half time (for most programs).
Be a U.S. citizen or eligible non-citizen.
Have a valid Social Security Number (unless you're from the Republic of the Marshall Islands, the Federated States of Micronesia, or the Republic of Palau).
Not have a federal or state drug conviction for an offense that occurred while you were receiving federal student aid (such as grants, loans, or work-study).
Make satisfactory academic progress.
Demonstrate financial need (in most cases).
Be registered with the Selective Service if you are a male and 18 through 25 years of age (go to www.sss.gov for more information).
Sign the certification statement on the FAFSA that you are not in default on federal student loans or owe on a federal student grant and you will use federal student aid for educational purposes.

This feature is intended for Financial Aid questions.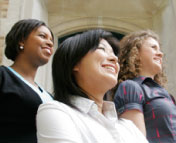 Ready to start an application?
Franklin's student-centered philosophy is one of the many reasons so many students choose us!
START YOUR APPLICATION