Influenza Facts
The health and well-being of our students, faculty, adjuncts and staff has always been a priority at Franklin University. As the University does it part to maintain a healthy learning and working environment on our campuses, we ask you to take an active role as well by visiting the following Websites to learn how to reduce your own risk of contracting H1N1 and seasonal flu viruses.
In the event flu-like symptoms keep you from attending class, we encourage you to contact your faculty member to convey this information as well as to discuss taking advantage of one of Franklin's many flexibility opportunities such as flex-a-class or converting from a face-to-face to online course delivery method during any extended absences.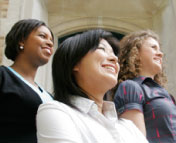 Ready to start an application?
Franklin's student-centered philosophy is one of the many reasons so many students choose us!
START YOUR APPLICATION