Army
Franklin serves the educational needs of military students across the globe.
The Franklin University Office of Military and Veteran Affairs consist of a specialized group of experienced Military Academic Advisors who support soldiers like you in meeting your educational goals. As one of the original institutions chosen to participate in the GoArmyEd Program, Franklin University has a depth of knowledge and experience to better serve you. GoArmyEd is the U.S. Army's educational initiative designed to help you work toward your college degree or professional certification online no matter where you're stationed.
Franklin is committed to offering soldiers like you quality education that is convenient and affordable. Undergraduate tuition is just $250 per credit hour. All soldiers are encouraged to explore the funding options that may be available to them, especially GoArmyEd.
GoArmyEd is the virtual gateway for all eligible Active Duty, National Guard and Army Reserve Soldiers to request Tuition Assistance (TA) online, anytime, anywhere for classroom and distance learning. It allows Soldiers to manage their education records including college classes, testing, on-duty classes and Army Education Counselor support.
Military Tuition Assistance
You may be eligible for Federal Tuition Assistance (FTA) to fund courses in your degree program. Schedule an appointment with an Education Counselor at your nearest Education & Training Center to determine your eligibility.
Graduate Tuition and Fees may vary by academic level and program. As a courtesy to our servicemembers, Airmen are not required to pay the $25 undergraduate initial processing fee, $30 graduate application fee, or $100 non-refundable graduate deposit.
Undergraduate Military Tuition Rate
In order to maintain the $250 per credit hour tuition rate, Servicemembers are required to submit documentation during the first trimester of enrollment and on an annual basis thereafter. Complete the Undergraduate Military Servicemember Verification Form and submit along with proof of eligibility to the Office of Military and Veteran Affairs to continue receiving this great Franklin benefit!
Steps For Requesting Military Federal Tuition Assistance:
Meet with Education Services Officer/ Specialist (ESO/ESS) or start account with "New User" button on landing page of

GoArmyEd.com

Set up account/password information
Follow GoArmyEd's steps for getting started
Complete the Common Application through the GoArmyEd portal and select Franklin University as your home institution
Choose your Program of Study
Choose "Other degree plan" only if the chosen program is not listed as one of the available drop-down categories
Complete the Statement of Understanding (SOU)
*Must be signed by Commanding Officer
*Must be uploaded to GoArmyEd or given to ESO/ESS for approval of Federal Tuition Assistance (FTA)
Getting started at Franklin is easy. Follow the Getting Started steps above to begin the process of becoming a Franklin student.
Army National Guard students are eligible to use GoArmyEd to request Federal Military Tuition Assistance. Please see the section on Army Tuition, Fees, and Funding for information on accessing these benefits.
Soldiers in the Army National Guard may be eligible for state tuition assistance. Visit your state's Army National Guard website for more information.
Ohio National Guard Scholarship Program (ONGSP)
Subject to funding available from the Ohio General Assembly, the ONGSP provides tuition up to $4,710.00 ($393 per credit hour) per trimester to Army and Air National Guard members attending a two-year or four-year public or private college or university.
The scholarship is available for up to eight full-time trimesters.
Participants must commit to and/or complete a six year enlistment in the Ohio Guard. New enlistees must complete basic training and their AIT/AFSC training. Also, initial applicants who are prior service enlistees and can show evidence of at least three years of Active Duty service in a branch of the U.S. Armed Forces may use the program with a three year enlistment in the Ohio National Guard. You must send a DD214 and a notarized three year waiver form along with your application. Prior service participants are only eligible for four trimesters of scholarship assistance.
Scholarship program recipients must maintain good attendance at their unit drills; excessive absenteeism is cause for discharge from the Ohio National Guard. In such cases, Ohio law provides for recoupment of a pro-rated amount of the tuition paid plus interest.
Step 1: Obtain and submit application
For each trimester you plan to attend, you must be enrolled a minimum of three credit hours to receive benefits. Obtain your application form and submit to the Adjutant General's Department by the following deadlines:
Summer: April 1 Fall: July 1 Winter: November 1
Step 2: Notify Franklin of your approval
If selected, you will receive an approval letter. Please provide a copy of your ONGSP approval letter to:
Franklin University
Office of Military and Veteran Affairs
201 S. Grant Ave.
Columbus, OH 43215
omva@franklin.edu
fax: 614.255.9514 or 1.800.549.1904
Questions? Contact the ONGSP by phone at 614.336.7032, toll free 1.888.400.6484.
Step 3: Certifications
Financial Aid will certify National Guard Scholarships six weeks after the beginning of the trimester based on current hours of enrollment


Franklin helps you meet your personal and promotion goals through education.
At Franklin University, we value your military training and experience. That's why we offer you college credit for your military training and certifications, maximizing the number of credits you can transfer in and saving you time and money toward your degree.
Request for all transcripts from all previous institutions, including your Joint Services Transcript (JST), to be sent directly to Franklin University:
Franklin University
Office of Transfer and Articulation
201 S Grant Ave
Columbus, OH 43215
*Graduate students – please indicate ATTN: Graduate Student Affairs
JST transcripts can be requested free of charge through the Joint Services Transcript System.
Contact us today for more information on transferring credit to Franklin University.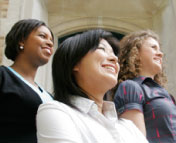 Ready to start an application?
Franklin's student-centered philosophy is one of the many reasons so many students choose us!
START YOUR APPLICATION